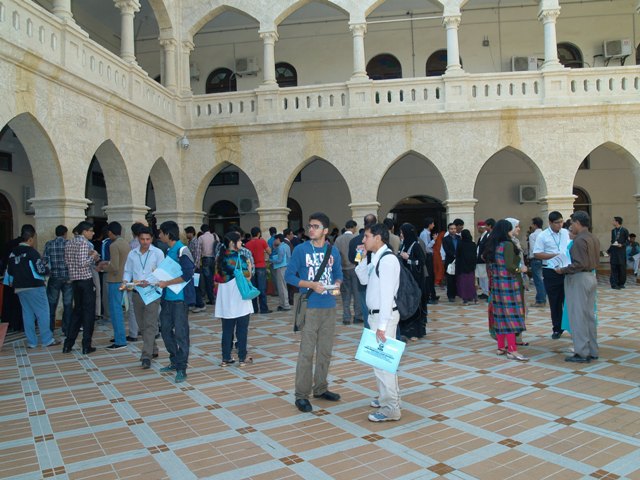 ---
If women acted according to the philosophy contained in Shah Abdul Latif Bhittai's poetry about women, they will remove every obstacle on their way to success and freedom.

Sindh Madressatul Islam University (SMIU) Vice-Chancellor Dr Muhammad Ali Shaikh said this while addressing a reception held by the varsity Monday night at its courtyard in the honour of the delegates of the International Latif Festival. The two-day festival, which concluded on Sunday, had been organised by Siraj Institute of Sindh Studies.

The message of Bhittai's poetry was universal, Dr Shaikh said, adding that the great poet also composed verses reflecting themes of pains and difficulties faced by women for achieving their rights.

The universality of Rumi's poetry

The VC welcomed the 22nd generation descendant of Molana Jalaluddin Rumi, Esin Celebi Bayru, who came from Konya in Turkey to attend the Latif Festival. Bayru's presence at the SMIU was an honour for the institution, Dr Shaikh said.

"[An] encouraging aspect of the festival [was] that it attracted youth," Dr Shaikh said, adding that it was being observed that youths were unable to understand Sindhi language which has been used by Bhittai in his poetry. The VC further said that the varsity administration had taken steps to make the younger generation understand Bhittai's poetry. He mentioned that Bhittai's poetry was being taught at SMIU Model School to introduce children with the great poetry in their early age.

Dr Shaikh informed the gathering that at a recent festival, students of SMIU had performed on seven female characters of Bhittai with the aim to acquaint the younger generation with the message of love, brotherhood and struggle narrated in Bhittai's poetry.

Six-day Ayaz Melo concludes with befitting tribute to poet

Pakistan is a close friend of Turkey, said Bayru. She told the gathering that it was her first visit to Pakistan and she was delighted. She hoped that the varsity in Konya and the SMIU would work together to spread messages of two great poets, Rumi and Bhittai.

Short story writer and playwright Noorul Huda Shah thanked the VC for hosting a reception in the premises of the historical building of SMIU. She pressed on the need for bringing the younger generation closer to the poetry of Bhittai as it was a treasure of great ideas.

Siraj Institute of Sindh Studies Chairperson Dr Fahmida Husain said that the idea behind organising the Latif Festival was to enable the younger generation to understand the message of Bhittai in simple language. She added that the institute was trying to propagate the poetry of Bhittai through lecture programmes and translations in English and Urdu. Waheeda Mahessar also spoke on the occasion.