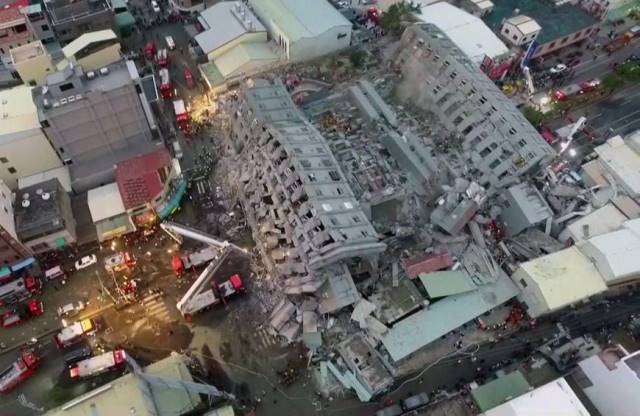 ---
TAIPEI: A magnitude 6.4 earthquake struck just to the northeast of the city of Hualien in Taiwan late on Tuesday, the US Geological Survey said, causing a hotel to collapse and forcing the closure of a nearby highway, the government said.

The quake struck about 22 kms (14 miles) northeast of the city shortly before midnight, and the epicenter was very shallow at just 1km.

An official from the Ministry of Interior's fire station division said by phone that people were trapped in the buildings in Hualien.

Two dead as earthquake jolts parts of Pakistan

The government said a bridge in the city on Taiwan's eastern coast could not be used, and the structure of an inn had tilted during the earthquake.

A magnitude 6.1 earthquake struck nearby on Sunday.

Earthquake Infant killed in Bela as parts of province jolted

"The president (Tsai Ing-wen) has asked the cabinet and related ministries to immediately launch the 'disaster mechanism' and to work at the fastest rate on disaster relief work," the president's office said in a statement after the Tuesday earthquake.
COMMENTS
Comments are moderated and generally will be posted if they are on-topic and not abusive.
For more information, please see our Comments FAQ