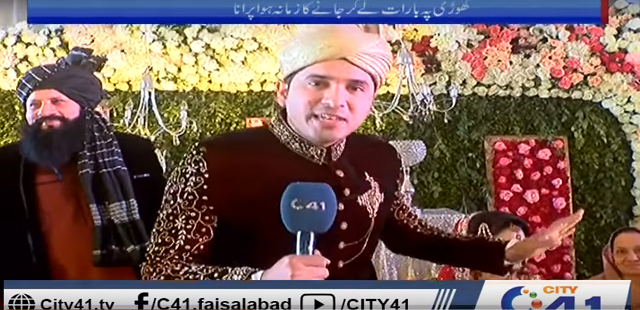 ---
In the United Kingdom, people swarm around television sets and watch the Royal Wedding live from home. It's considered an honour if a wedding is featured on the news.

For Pakistanis, it's the wedding ceremonies of celebrities, sports personalities or politicians that gets the media's attention.

However, a local journalist, Hannan Bukhari, from channel City 41 decided his special day deserves coverage, so he took on the task of reporting live from his own wedding.

It rained dollars, riyals and cell phones at a Khanpur wedding

Clad in a smart sherwani, Bukhari introduced himself, "This is a day of joy for me. My family is ecstatic, and so are we. This is a love marriage, so my wife and I are overjoyed."

The camera then shifted to a montage of scenes of the ceremony. Cut, scene, and Bukhari could be seen, mic in hand, thanking his family members for their unwavering support and love.

City 41 dedicated an entire segment to the wedding where Bukhari went and asked the most-Pakistani-question to his in-laws, "aap ko kaisa lag raha hai [how do you feel]?"

"My father is also here, he's worked day and night tirelessly for this day to come. And he handled all the affairs of the event himself," Bukhari said proudly while his father beamed with joy in the background.

In true journalistic sense, Bukhari then shuffled over to his wife who was dressed in the traditional red for the ceremony. Holding a mic to her interview-style, Bukhari blushed as his wife appeared on TV.

"I am really happy. You fulfilled my wishes of having a big wedding. I hope you always continue to fulfill my wishes like you have now," Bukhari's wife said as he held the mic for her to answer questions.

Bukhari's wedding was highlighted with sports cars and heavy bikes which he had arranged for the day.

Shortly after the news went viral, multiple media organisations reported it including Indian Express, Zee News India, EasternEye, News 18, Scoopwhoop among others.

Serena Williams fairytale wedding will give you serious marriage goals

Bukhari also initiated a discussion on social media platforms about the acceptability surrounding a possible new trend. Twitter and Facebook users alike have begun a thread of discussion with some denouncing love-locked Bukhari while others pledge support to his brave step.


Report of the Year "A city 41 Reporter (groom) is covering his marriage ceremony" 😂 this is freaking hilarious... pic.twitter.com/vZAH9Zg0va

— Qamber Zaidi (@qamberzaidii) February 4, 2018
Journalism at its best! A #pakistani journalist covering his own wedding. #hilarious. Best wishes to him and his bride.#City41 https://t.co/CdUx4zsjIg pic.twitter.com/TSqaR5MJfv

— dinesh akula (@dineshakula) February 5, 2018
Part II. #City41 reporter while covering his own wedding "Je Sassu ma app ko kesa lag rha hay" 🤣🤣😂 #PakistanMedia #ModrenRaporting #NayaChandNawab pic.twitter.com/miKCzAIur3

— Amar Guriro (@amarguriro) February 4, 2018
Only in Pakistan would a TV reporter cover his own wedding by interviewing his father and his bride... https://t.co/gB64JsenAb

— Arsalan Iftikhar (@TheMuslimGuy) February 4, 2018
The City 41 reporter covering his own wedding is a postmodern Pakistani treasure. He proudly shares his big day.

Don't make fun of him. Think about what the media has done for thousands like him. And for millions of us.

Congratulations to him, his wife and his whole family.

— Mosharraf Zaidi (@mosharrafzaidi) February 4, 2018
Maturity of Pakistan media,in this its not fault of reporter but editorial board, on a lighter note; the reporter was very confident n over excited https://t.co/CkCI0ACZ3U

— Farhan Mahmood (@FarhaanMahmood) February 5, 2018
COMMENTS (2)
Comments are moderated and generally will be posted if they are on-topic and not abusive.
For more information, please see our Comments FAQ