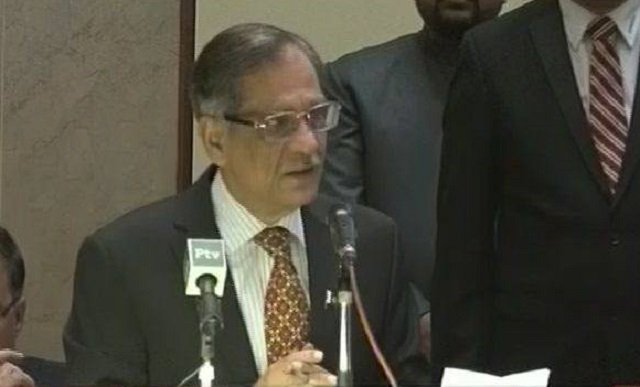 ---
ISLAMABAD: Chief Justice of Pakistan (CJP) Mian Saqib Nisar has observed that he will not take new suo motu notices until the disposal of earlier cases, making it clear that the Supreme Court is not interfering in executive policies, and only pointing out the issues.

Addressing Babar Awan during the hearing of a suo motu case related to human smuggling, the CJP asked all lawyers to assist the top court in adjudication of matters related to public interests.

The CJP has taken suo motu notices of multiple cases during the last couple of months. The brutal rape and murder of a minor girl in Kasur shook the nation, forcing the CJP to take a notice of the incident, leading to swift progress in the case.

The CJP took suo motu notice of the extrajudicial killing of Naqeebullah Mehsud in an 'encounter' in Karachi by former SSP Rao Anwar. Anwar remains at large while Sindh police has strict orders to arrest him. The top judge also took notices of the killing of Asma Rani in Kohat and four-year-old Aasma in Mardan.

However, a senior official told The Express Tribune that there is difference between a suo motu case and matters related to human rights.

Till January 31, 2018, as many as 185 cases related to human rights and 58 cases on which suo motu notices had been taken were pending decision in the apex court. Since the start of 2018, the CJP has taken around two dozen notices on different issues.

CJP takes suo motu notice of encroachment of public parks in Islamabad

Recently, the chief justice has also issued contempt notices to PML-N leaders for targeting judiciary. However, major political parties did not welcome what they called 'judicial activism'.

Jam-packed courtrooms, sitting of benches for extended hours and daily press releases harken the era of former chief justice of Pakistan Iftikhar Chaudhry. He is said to have introduced judicial activism in the country after the restoration of judges in March 2009, continuing the practice until his retirement in December 2013.

During his tenure, Justice Chaudhry took notices over 'maladministration' of federal and provincial governments as well as people's grievances. He used to be at the court complex for 16 to 18 hours a day throughout his tenure.

Justice Chaudhry's remarks were covered far and wide by the press, but they also made him a controversial figure. The court intervention in matters such as Reko Diq and rental power projects harmed the country in international courts and other forums.

After his retirement, Justice Chaudhry's conduct came under severe criticism.

Judiciary is paralysed due to govt, says CJP

His successors, justices Tassaduq Hussain Jilani, Nasirul Mulk and Anwar Zaheer Jamali distanced themselves from his way of working and adopted a policy of judicial restraint, mostly avoiding taking notice of executive failures. Their approach was appreciated by the legal fraternity.

The incumbent chief justice continued the policy of restraint last year, being very selective in taking notices over executive failures to resolve fundamental issues, but with the start of 2018, he has become much more proactive, to the surprise of many.

One section of the lawyers is raising questions over the Supreme Court's suo motu proceedings in the Shahzaib murder case, wherein the accused have again been sent behind bars.

Likewise, they are expressing concern over the court judgments in cases related to Nehal Hashmi and Siddiqul Farooq.

Legal experts are advising the superior judiciary to exercise its jurisdiction wisely while dealing with issues of political nature.

A senior law officer, however, opined that the incumbent judiciary had given the concept of judicial engagement, a brainchild of the American court system. He believes that the chief justice is only taking notice of matters wherein the executive has shown abject failure.

On Tuesday, the CJP while hearing a matter related to low pension of bank employees, rejected banks proposal to increase the pension to Rs5,250.

Likewise, he also directed the Foreign Office to facilitate the Federal Investigation Agency in establishing link offices in certain foreign countries to counter human smuggling.