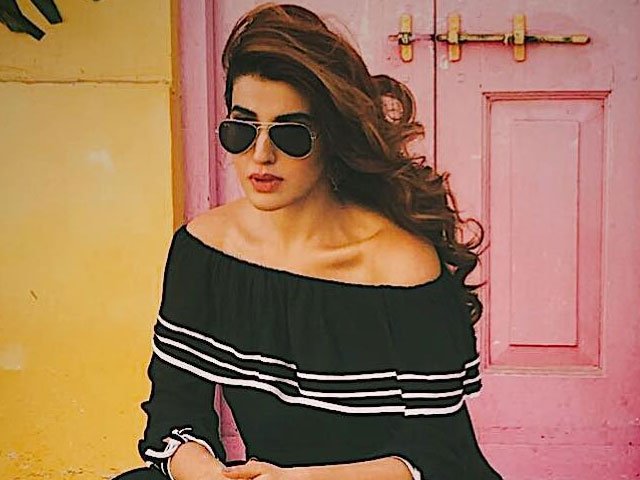 ---
Azfar Jafri's latest offering, Parchi, broke taboos with Hareem Farooq playing the badass Eman, who dominates the movie with her acting prowess.

Parchi became the first Pakistani movie to be screened in Saudi Arabia after the government lift ban on cinemas after 30 years. Apart from Saudi Arabia, the movie released in the UK, the US and Canada.

'Parchi' screening in Saudi Arabia proves a hit

While the movie nears Rs20 crore worldwide, Parchi fared better at the box office among other local winter releases in Pakistan.

https://www.instagram.com/p/BeQrxcbgl94/?hl=en/?&taken-by=hareemfarooq

In a recent interview with BBC Asian Network, Hareem opened up about how Parchi managed to break, not just box office records, but stereotypes as well.

"It's an action, comedy movie. We've tried to experiment a bit. We've tried to introduce a lot of new faces. We've tried to introduce a new kind of comedy which hasn't been done in Pakistani cinema recently, which is situational comedy," says Hareem.

'Parchi' performs better in cinemas than all winter releases

Praising her co-stars, the starlet said, "Parchi a lot of fun, full of amazing actors like Ali Rehman Khan, Usman Mukhtar, Ahmed Ali Afzal who definitely deserve to be on big screen. They've done a brilliant job."

https://www.instagram.com/p/BccNl-6gNmr/?hl=en/?&taken-by=hareemfarooq

Talking about how important it is to introduce a new wave of actors and actresses in the industry, Hareem said, "It is absolutely important to introduce new faces in Pakistani cinema. We need to have new faces, we need to make new stars, bigger stars. Cinema is a very strong platform which can provoke thought process and change mindsets. Therefore, we need the younger lot out there who have different mindsets and who are passionate for cinema."

'Parchi' trailer is out and Hareem Farooq's looks could kill

"A lot of people don't know this, but our youth is very passionate about cinema. We recently started various courses in different universities. Many came forward to work with us behind or in front of the camera," added the Dobara Phir Se star.

Hareem believes that the public is leaning towards the cinema much more as compared to the last five to six years.

https://www.instagram.com/p/BcUEMs6Am8m/?hl=en/?&taken-by=hareemfarooq

"A lot of people have contributed to the revival of the film industry," said the actor. "The industry is definitely flourishing. We have more screens than before. It's an amazing opportunity for actors, it's an amazing opportunity for business."

Talking about the man behind the success of Parchi, Hareem said Osman Khalid Butt deserves all the praises.

8 firsts by 'Parchi' that you didn't know about

"He's not just an amazing writer, actor or producer, he's now an amazing choreographer as well. He's an old friend and we believe in taking our friends along as well and making them grow as well. Especially, when your friends are that talented. He visualised Billo Hai, and it turned out amazing. No one knew that Osman can choreograph that well," she added.

https://www.instagram.com/p/BcQR_RLgr16/?hl=en/?&taken-by=hareemfarooq

Giving her two cents on other Pakistani movies, like Mahira Khan starrer, Verna, the Janaan star producer said, "I didn't get a chance to watch Verna but I saw the trailers. Mahira is a very dear friend, and it was a very bold effort from Shoaib Mansoor sahab and Mahira to do a film on such a sensitive topic. They have to be credited for that. I don't care if it is good or bad, but when you have the guts to touch such a topic, I'd applaud you for it."

Women are more prone to judgment and there's little that can be done: Hareem Farooq

So what does the future hold after Parchi for Hareem?

"I'm probably going to go back to dramas. I've been asked and told to do a drama or two and go back to television. I'm grateful to TV, it has made me who I am today," said Hareem.

Other than the dramas, Hareem has another movie coming up! "Hopefully, by the end of this year or the start of 2019, we will have another movie for you. So, you have to wait and watch," concluded the starlet.

Have something to add to the story? Share it in the comments below.
COMMENTS (1)
Comments are moderated and generally will be posted if they are on-topic and not abusive.
For more information, please see our Comments FAQ