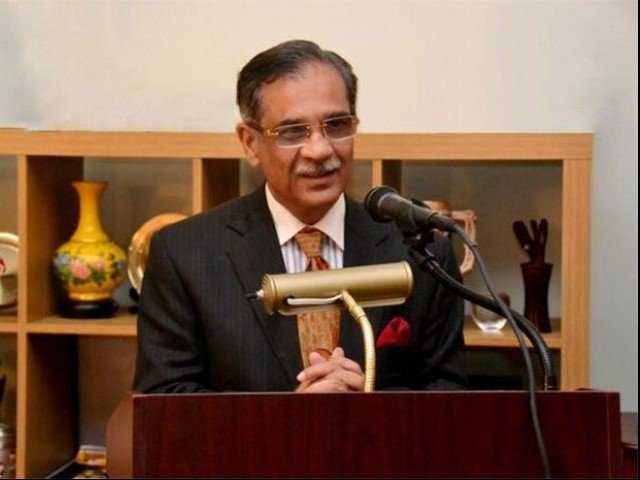 ---
ISLAMABAD: Chief Justice of Pakistan (CJP) Saqib Nisar on Monday took notice of the alleged encroachment on a football ground in Sector F-8 of the capital by some lawyers who are building their chambers there.

The chief justice, while taking notice on print and social media reports of the encroachment, has sought a report from the chairman of the Capital Development Authority (CDA), directing him to submit a report within three days.

Lawyers strike back

Meanwhile, a body of lawyers has accused the government of failing to provide lawyers with space for their chambers.

"It is negligence on part of the federal government and the Islamabad Capital Territory (ICT) that no judicial complex has been set up in the capital since 1980," Islamabad District Bar Association President Riasat Ali Azad told The Express Tribune.

"I believe that if chambers for lawyers have been built illegally, then the district courts [working in the F-8 kutcheri] are also functioning illegally," he added.

Azad explained that since he was the president of the bar association, he will face the suo motu proceedings in the apex court. He further said that at the moment, the Islamabad district bar has registered 4,300 lawyers as members.

Locals cried foul after the all-powerful lawyer-lobby started encroaching on a football ground located adjacent to the Sector F-8 Kutcheri to build chambers — land which they previously used as a car park.

The civic agency, which had mustered the courage to take stern action against encroachment by a mega-shopping mall in the city, seems to be powerless in dislodging encroachment by lawyers.

Nevertheless, for local residents and football players, the CDA and the Islamabad Capital Territory Administration (ICTA) are apparently acting as silent spectators.

The CDA, though, tried to stop the black coats from the encroachment and issued eviction orders. The lawyers, though, managed to win the court's favour and secure a stay order against the notices.

An official of the Islamabad administration said that it was the CDA's responsibility to take action against encroachers and that it was likely to do so when the stay order expires. 

Published in The Express Tribune, February 6th, 2018.