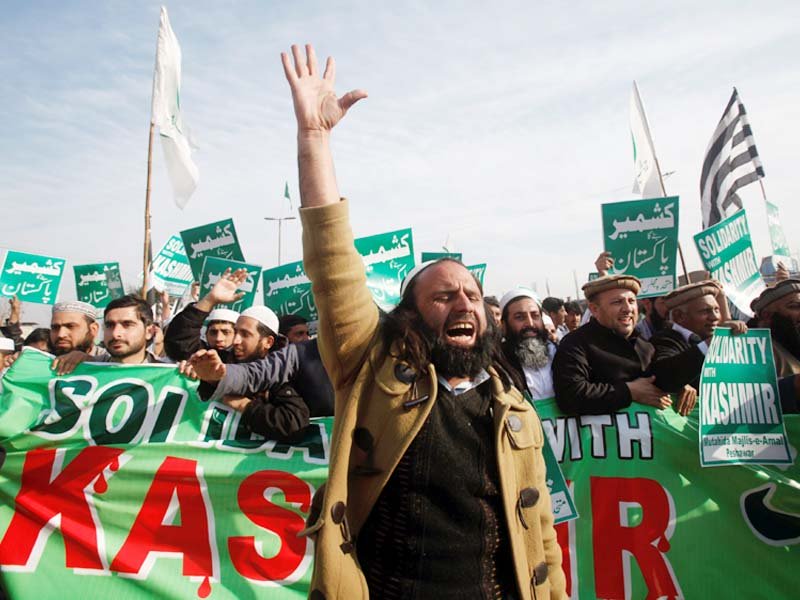 ---
PESHAWAR: Residents from across Khyber-Pakhtunkhwa (K-P) on Monday observed Kashmir Solidarity Day. In this regards, several protest demonstrations were held against the illegal occupation of Jammu and Kashmir by Indian forces and their naked aggression against innocent civilians agitating for their right to self-determination.

Dozens of rallies were held in every district across the province where not only elders but women and children also participated to observe solidarity with residents of Indian occupied Kashmir (IOK).

Relatively huge rallies were held in the provincial capital where not only political parties but locals and members of the minority community also protested Indian aggression in IOK

Locals in the provincial capital held rallies where they demanded that the United Nation end atrocities being committed by Indian security forces in the occupied land stressed upon the global community to intervene and resolve the issue which has been pending for the past 70 years and has claimed thousands of innocent lives.

The protesters chanted slogans in favour of Kashmiris in IOK calling it an integral part of Pakistan. They simultaneously condemned aggression by Indian forces against unarmed Kashmiris adding that Indian armed forces have failed to crush the voice of Kashmiris who continue their struggle towards independence from Indian aggression.

Members of Peshawar's Sikh community also held a rally where they protested against India calling upon the international community to play their role so that the rights of Kashmiris are ensured.

Difa-e-Pakistan Council (DPC), Jamat-e-Islami (JI), Jamiat Ulema-e-Islam (JUI-F), Jammu Kashmir Front Ahl-e-Sunnat , Tahaffuz-e-Khatm-e-Nabuwwat, JUI-S, Anjuman-e-Tajiran besides others also held rallies.

Published in The Express Tribune, February 6th, 2018.