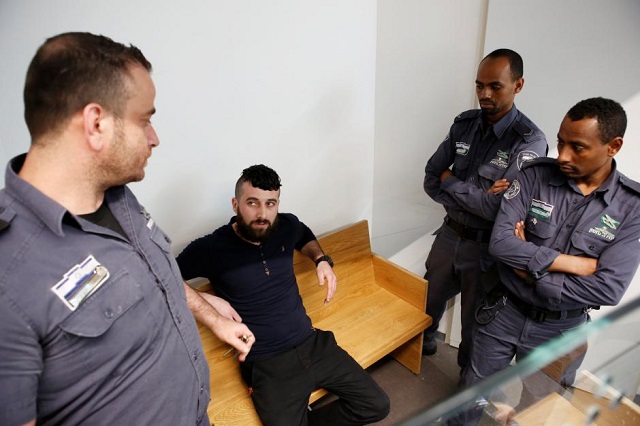 ---
TEL AVIV: Israeli judges ruled on Sunday that a Jewish settler killed by a Palestinian with whom she was in a relationship was the victim of a political attack rather than a personal one.

Michal Halimi, 29, who was two months pregnant at the time of her death, went missing last May. Her body was discovered outside Tel Aviv in August, and Israeli police arrested Mohammed Harouf, a Palestinian.

Two Palestinian women in court over Israeli soldier slap video

Harouf, 30, said in a televised statement to the court in August that he had targeted Halimi "to free prisoners". His lawyer, Elad Rath, said that Harouf's plan had been to abduct Halimi and swap her for Palestinians held in Israeli jails, but that when she resisted he strangled and bludgeoned her to death.

Halimi was married and lived in the settlement of Adam in the occupied West Bank. Harouf, from Nablus, was working as a gardener in Holon, south of Tel Aviv, on the day of the murder.

Israeli prosecutors initially treated the case as non-political. Israeli media reprinted a photograph that had circulated on Facebook of Halimi and Harouf embracing and smiling.

However on Sunday, prosecutors agreed to a plea bargain under which Harouf will serve a life sentence for murder. The amended indictment said Harouf had been in a "personal relationship" with Halimi but that he had attacked her "out of nationalistic motives, as she was Jewish", in effect designating him as a Palestinian militant.

Israeli man's selfies at Masjid-e-Nabwi spark outrage on social media

This means that Halimi's next-of-kin will be entitled to state stipends given to relatives left bereaved by political violence. Harouf's family, in turn, can expect payouts from the Palestinian Authority, which offers such support to relatives of those killed or jailed for attacks on Israelis.

Those Palestinian stipends have come under increased scrutiny by Israel and have drawn US threats of funding cuts. "This arrangement is important not least because it spares the (victim's) family further grief," lead prosecutor Raed Anuz told the three-judge panel.

No date was set for the sentencing.
COMMENTS
Comments are moderated and generally will be posted if they are on-topic and not abusive.
For more information, please see our Comments FAQ