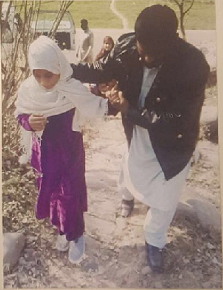 ---
As the cold winds whirled in Battal, Azad Kashmir on October 1, 2017, a little girl with her shivering hands and sleepy face woke up with the same dream that had encapsulated her for quite some time.

The dream of wearing a crisp white coat and wearing a stethoscope around her neck, 12-year-old Yasira rubbed her eyes and struggled to get out of  bed. As the girl stepped out of her house to make the most of her day off from school, there came an unusual sound – a sound known and feared by many. The sound that echoes through the valleys of Kashmir.

The girl who had absolutely nothing to do with the concept of war was hit hard by Indian shelling which amputated her leg below the knee completely. She was then transferred to Combined Military Hospital (CMH) Rawalkot in critical condition.

Kashmir Solidarity Day: President links peace to Kashmir resolution

Battal, an area prone to conflict has been affected by war and blood but even amongst all the violence that surrounds the area, dreams never die. More often than not, they only rise high.

It is a common practice for schools and colleges to be closed because of the indiscriminate shelling of Indian forces in the Nakyal and Battal sector.

"More than 60 families were forced to flee from various villages to Nakyal where they have been temporarily accommodated in 2016. They are being served food twice a day and spend nights in homes of people in Nakyal," AC Nakyal said.

Wondering what Indian forces gain by targeting schools and other civilian targets in the area, a tenth grader, expressed "We urge the world community, especially members of the United Nations Military Observers Group for India and Pakistan (UNMOGIP) to visit the LoC and see how Indian military is targeting civilians in the Nakyal sector."

Chief of Army Staff (COAS) General Qamar Javed Bajwa, during his visit to Chirikot sector on November 10, 2017, directed for immediate evacuation of Yasira to Armed Forced Institute of Regenerative Medicine (AFIRM)  for an artificial limb implant.

Yasira was thus immediately transported to forward treatment centre in Kahuta in a septic, malnourished condition and was re-operated on November 12, 2017 for debridement and preparation for an artificial limb grafting.




Post-operatively, she was provided with a high protein diet and round the clock intensive care that made her infection free.

On November 14, 2017, she was transferred to CMH Rawalpindi and grafted with an artificial limb on December 27, 2017 at AFIRM, restoring her normal gait and other life activities.

The young, driven Kashmiri girl returned home on January 20, 2018 with one nursing assistant permanently detailed with her to look after her medical and logistic needs. Her rehabilitation, treatment and recovery was closely monitored.

Kashmir Solidarity Day: Solution must as per UN resolutions

Yasira returned home after 2 months and 9 days of successful rehabilitation with a smile on her face and happiness in her heart. Her parents have shown immense gratitude for COAS in particular and Pakistan Army in general, for immediate care and state of the art cure provided to their beloved daughter.

This gesture has played a paramount role in winning the hearts and minds of war wounded civilians residing at line of control.

"I am a part of Kashmir and Kashmir is a part of beloved Pakistan, I would do anything to serve my country," the gleeful girl exclaimed after having suffered major wounds and recovering.

During her stay at the hospital she relayed that she missed being at school the most. Her mother, who stitches clothes for her states the pain her daughter went through and how often they hear the sound of shelling and still get frightened over the fact that something might hit them again.

The fear may remain however they know that Pakistan is their home and Kashmir will stay home, forever.