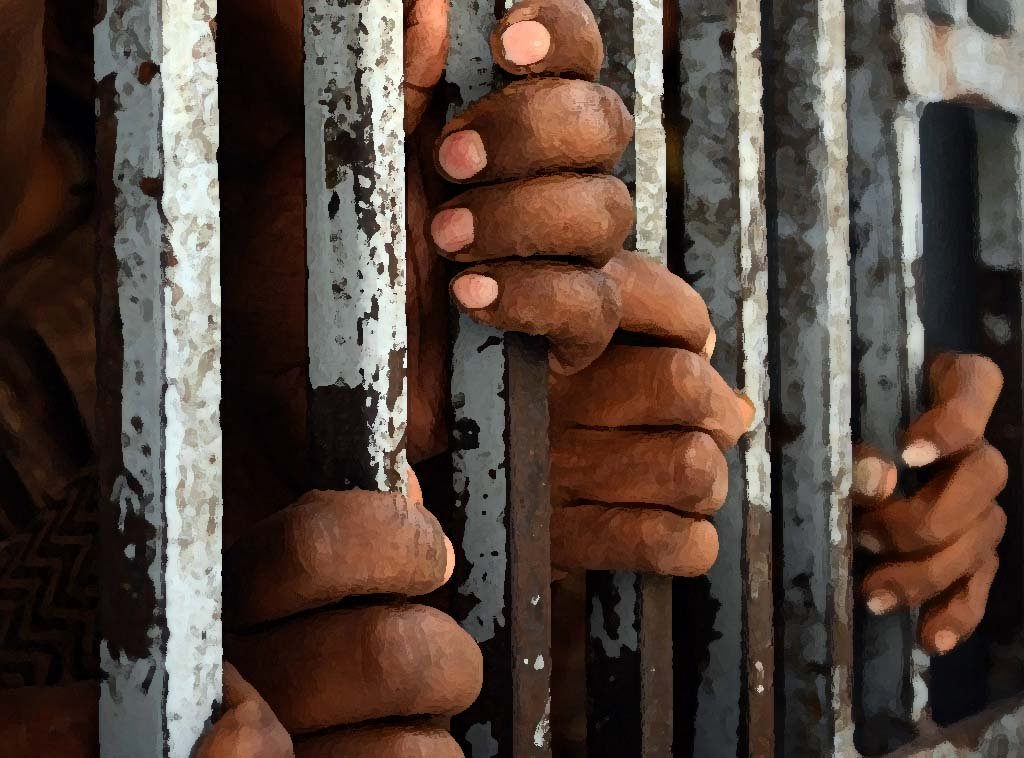 ---
KARACHI:

There are currently 25 prisons in Sindh and four new internment centres are being constructed.

The 25 prisons include five central jails, 11 district jails, four women jails, four juvenile jails and one open prison.

The open prison, a low-security institution located in Badin, was reopened in 2012 but no prisoners are serving sentences there.

The four new jails being constructed in the province will collectively be able to house 1,750 prisoners - the district jail in Thatta will accommodate 250 prisoners, and the district jails in Mirpurkhas, Shaheed Benazirabad and Malir will accommodate 500 each.

The current capacity of jails in the province is 12,413. The number of prisoners incarcerated at jails in the province, however, is 18,899.

The big guns

High-profile prisoners are incarcerated at three central jails in the province - Karachi, Sukkur and Hyderabad. There are 373 militants and 108 target killers at these jails who are considered 'high-profile'.

Most of them - 286 militants and 108 target killers - are kept at the Central Jail, Karachi. Fifty-eight militants and 11 target killers out of them have been punished. Central Jail, Hyderabad houses 42 militants and 14 target killers, while Central Jail, Sukkur is home to 45 militants and 14 target killers.

Who's in charge?

The main agency responsible for jail security is the Frontier Constabulary (FC). The Rangers and police personnel are also deployed at the prisons. Central Jail, Karachi has four FC troops with 106 soldiers. Hyderabad has three troops with 124 soldiers and 113 FC personnel have been deployed at Central Jail, Sukkur. Four Rangers mobiles and an armoured car, as well as three police mobiles are currently being used for the security of jails in Sindh.

Hard at work

Presently, there are 5,264 sanctioned posts for workers at jails in Sindh - 3,963 are filled while 1,301 posts still remain vacant. There are vacancies for administrative officers, security staff, medical staff and teaching staff. There are administrative vacancies for male and female assistant superintendents, deputy superintendents, public relations officers, line officers and several other posts while for security purposes sub-inspectors, female assistant sub-inspectors, head constables, female head constables as well as male and female constables are needed. Male and female medical officers are required to fill in the medical staff vacancies while male and female teachers and lecturers are required for teaching.




Vehicles are also required to transport prisoners to and from court. Around 118 vehicles are needed in total but there are only 82 currently available.

Put to death

From 2009 till August, 2016, only 18 prisoners have been executed.

There were 473 prisoners sentenced to death in that time period, 446 of whom have filed appeals in the Sindh High Court and Supreme Court. Eight prisoners filed appeals at the General Headquarters (GHQ), two of which have been rejected. Six prisoners' appeals are pending at the Naval Headquarters. Four death row convicts have filed mercy petitions with the president.

In August 2016, 18 prisoners were executed - 10 at the Central Jail Karachi, two at the Hyderabad jail, five in Sukkur, and one in Larkana. Between 2011 and 2015, 2,980 prisoners were released on parole or probation from various jails across the province. There were 797 prisoners released on parole or probation in 2011, 627 in 2012, 459 in 2013, 484 in 2014 and 613 in 2015.

Prohibited items

Jails Inspector-General Nusrat Mangan admitted that narcotics and mobile phones were recently recovered from Central Jail, Karachi. Mangan told Express News that there is a lack of both staff and space at jails, which makes it difficult for the jails' administration to function.

When prisoners are taken to court from their prison for hearings they often manage to obtain drugs or mobile phones along the way. The police officer said measures such as increased security and monitoring have been taken to curb this.

After receiving a request from jail authorities, the Rangers conducted a search operation at Central Jail, Karachi. The jail administration suspected that inmates were in possession of mobile phones and narcotics, therefore the operation was conducted to confiscate all illicit items.  The provincial prisons head said that this issue is not limited to Sindh - all around the world prisoners are able to access mobile phones and drugs while incarcerated.

On the run

In the past 30 years 42 prisoners escaped from jails in Sindh and, according to a government report, violence at jails claimed the lives of 24 male prisoners. According to a letter written by the prisons IG to the home department, on March 23 1986, 34 prisoners escaped from the Central Jail, Sukkur, while two escaped from District Jail, Jacobabad and one from Central Jail, Hyderabad. According to the report, in 1996 and 2007, six prisoners escaped from the Sukkur jail.

In 2011, during an incident of violence at Central Jail, Hyderabad, seven prisoners were killed while 50 were injured. A similar incident at the jail in 1989 claimed 13 lives. In 2008, violence at the District Jail, Malir claimed the lives of four inmates.

Mysterious deaths

In 2017 a government officer, police inspector and two Muttahida Qaumi Movement (MQM) workers were among 18 prisoners who died in mysterious circumstances at jails in Karachi.

According to home department statistics, most inmates died of cardiac arrest. Noor Bengali, a prisoner at District Jail, Malir, died on January 11, MQM worker Sheikh Ameer alias Meeru died on January 17, a prisoner at Malir District jail, Yasir Shafi, on January 20 and Central Jail, Karachi prisoner Manzoor died during treatment at Civil Hospital, Karachi on January 24.

Central jail prisoner Sher Muhammad passed away on January 28 during treatment. On March 19, central Jail prisoner Gulzar died at Civil Hospital, Karachi. According to the police, he died of cardiac arrest.

Former Karachi Metropolitan Corporation director of recoveries, Abdul Qavi, a prisoner accused of corruption, breathed his last on April 3. The following day Saeed Muhammad Khan, a central jail prisoner died at Civil hospital, while the same day, at Malir District Jail, another prisoner, Noman, also died. On April 23, a prisoner at the Malir District Jail, Dil Murad Shah, died during treatment at Civil Hospital, Karachi. A week later, on April 30, central jail prisoner Azhar Hussain died at Civil hospital.

On May 4, at central jail, MQM worker Hussain Ghanchi died. On May 16, Central jail prisoner and Lyari gangster Ayaz Baloch passed away.

On 17 May, central jail prisoner Zameer Bhutto passed away. Sajid Hashmat, a prisoner at the Malir District Jail, died due to cardiac arrest while he was being treated at a hospital. Accused of drug smuggling, Hashmat was arrested at the Karachi airport in February, 2014.

Central jail prisoner Muhammad Yaseen and a suspended policeman and Malir District Jail prisoner, Nawab, died at Civil Hospital, Karachi during the treatment on October 6 and 8 respectively.

On November 8 and 14, two central jail prisoners, Azad Khan Shahid and Malik Arshad, passed away at Civil hospital. Shahid died during treatment at the hospital, while, Arshad, a death row prisoner, died of a cardiac arrest. The deceased was a former SHO of the Anti-Car Lifting Cell and was convicted of killing a citizen in a fake encounter.

Published in The Express Tribune, February 5th, 2018.


COMMENTS (1)
Comments are moderated and generally will be posted if they are on-topic and not abusive.
For more information, please see our Comments FAQ