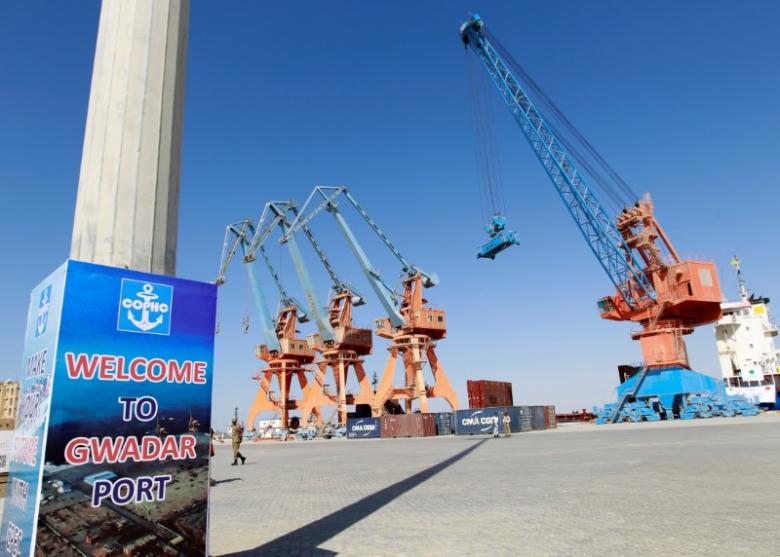 ---
ISLAMABAD: Russia and the United States have been engaged in a race since long to establish their dominance in the strategic Central and South Asia regions.

Of late, China has entered the fray with its massive Belt and Road Initiative (BRI) in a bid to build a modern-day Silk Route connecting Asia, Africa and Europe to gain access to world markets.

Under the BRI, China and Pakistan are working on a gigantic economic corridor to develop infrastructure, energy projects and Gwadar Port. Gwadar is believed to have the potential to rival the busy Dubai Port as well as Iran's Chabahar Port. But the corridor plan has made the US and India angry.

Addressing concerns: 'CPEC is bound to bring prosperity to Pakistan'

Earlier, the US had apparently kept a balance between nuclear-armed arch-rivals Pakistan and India, but now it is inclined towards Delhi and Kabul in this region, sparking concern in Islamabad.

Big countries are locked in politics of corridors to reach untapped markets of Central Asian states. Washington has been pressing Pakistan to open a land route for India which wants to access Central Asia through Afghanistan.

However, Pakistan has forcefully denied any such permission due to longstanding political and diplomatic tensions with India.

Afghanistan is being used as a tool to pressurise Pakistan to make India part of a transit trade agreement between Pakistan, Afghanistan and Central Asian state of Tajikistan. Afghanistan President Ashraf Ghani has even threatened several times that he will block goods supply from Pakistan to Central Asia.

At the same time, India has been critical of the $46-billion China-Pakistan Economic Corridor.

"We are all for promoting connectivity… but on the OBOR (One Belt, One Road - another name for the BRI), our position is that since the so-called CPEC forms part of OBOR and it passes through Indian territory, that is where our difficulty lies," Indian External Affairs Ministry spokesman Gopal Baglay said.

Citing sovereignty issues, India has objected to the construction of CPEC projects in Azad Jammu and Kashmir.

However, Institute for South and Central Asia Studies, Shanghai, Director Wang Dehua told Indian media that CPEC was a flagship project, but all countries in South Asia had confirmed their participation in the Belt and Road Forum and were making use of the initiative.

Routes to Central Asia

India has three routes to reach Central Asia. One route passes through Pakistan, another through China and the third through Iran. India has opted for the third one via Iran, but Tehran has tense ties with Washington, which has slapped scores of sanctions over Iran's alleged nuclear programme.

The US even piled pressure on Pakistan to shelve long planned natural gas imports through a pipeline from Iran. However, in a sign of double standards, the US has kept mum on the inclusion of India as a partner in the strategic Chabahar Port of Iran.

Iran President Hasan Rouhani inaugurated the first phase of Chabahar Port in the presence of officials of 17 countries in December 2017. India is central to this project as it insists on opening a trade route to Afghanistan and Central Asia, bypassing Pakistan.

India was to equip and run two berths in phase-I of the port with capital investment of $85 million and annual expenditure of $23 million on a 10-year lease.

India wants to establish a transit and transport corridor among the three countries using the Chabahar Port. This is in addition to the flow of passengers across the three nations.

The port is expected to start operation by the end of 2018 with New Delhi committed to developing a free trade area around the port and finally completing the loop with a $1.6-billion railway line to the Iranian city of Zahedan.

According to media reports, India, Iran and Afghanistan are working on developing the connectivity infrastructure including ports, roads and rail networks in a bid to open up greater opportunities for regional market access and integration of their economies.

India has already completed the Zaranj-Delaram highway in Afghanistan, which will facilitate land-based trade with Kabul and eventually beyond, to Central Asia.

At a time, when China is attempting to redraw regional boundaries through the BRI, India and other regional players are looking at enhancing their own regional connectivity profiles.

Gwadar's significance

On the other side, Pakistan has handed over control of Gwadar Port to China. Earlier, the Singapore Port Authority failed to make the port operational, primarily because of the security situation in Balochistan, the province where Gwadar is located.

However, after China took over the port, Pakistan Army has taken giant steps to ensure security and law and order in the province. Many Central Asian countries also want to gain access to Gwadar Port, which is just 80 km from Chabahar.

India spending $500 million to sabotage CPEC: Gen Zubair

Kabul used to depend on only one transit route in the past, which was through Karachi. That is not the case any more. Now, it is through Chabahar as well.

Iran's ties with Pakistan have historically been mired in suspicion, though Tehran has assured Islamabad it will not allow India or any other country to use Chabahar against Pakistan.

China also wants to reach Central Asia and Russia through Kabul. In such a scenario, peace in Kabul is important for Pakistan, China and Iran to make the ports successful.

The writer is a staff correspondent





Published in The Express Tribune, February 5th, 2018.

Like Business on Facebook, follow @TribuneBiz on Twitter to stay informed and join in the conversation.




COMMENTS
Comments are moderated and generally will be posted if they are on-topic and not abusive.
For more information, please see our Comments FAQ