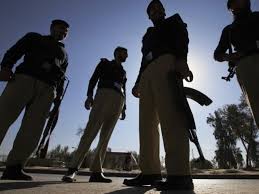 ---
ISLAMABAD: Federal Investigation Agency's (FIA) National Response for Centre of Cyber Crimes (NR3C) has been kept out of the loop during the ongoing investigation of the Zainab murder case, sources informed The Express Tribune.

"The wing has not been invited to probe or to assist the police to investigate the minor girl's murder," said the sources in the FIA, adding that at the moment no information is available with the NR3C with regard to the Kasur case.

The NR3C is supposed to play a pivotal role in the murder probe provided that the investigators also explore the likelihood of the little girl being violently raped and murdered at the behest of a racket involved in child pornographic content on the dark web.

Cybercrime: 64,000 social media users reported to FIA

There has been a theory prevailing in a section of the media that Imran Ali, the accused, had the backing of racket involved in child pornographic videos. However, the investigators of the murder case are yet to be approached.

Zainab, a seven-year-old girl, was kidnapped on January 4 from her aunt's house in Kasur. Her body was discovered five days later from a garbage heap. The post-mortem report revealed that she had been raped and murdered.

Imran Ali was arrested on January 23 for his alleged involvement in the rape and murder of the minor girl. He is stated to be involved in other murder cases of minor girls in the area.

First time ever in the history of Pakistan, authorities concerned had constituted a team of NR3C on January 26 to deal with cyber cases pertaining to child sexual abuse and child pornographic contents.

Moreover, all zonal incharges of NR3C were also strictly directed to furnish the complete brief of all cases related to child sex abuse and child pornography.

Cybercrime: Threats through electronic communication criminalised

The latest case of child pornography was registered in Peshawar which was the first case of Pakistan in which the complainant was a Pakistani.

An FIR was registered in Peshawar on February 1 in which father of a young boy had alleged that a person belonging to Batakhela was involved in creating pornography videos of his son. The complainant is the resident of University Town Peshawar and the accused belongs to Batkhela Malakand.
COMMENTS (1)
Comments are moderated and generally will be posted if they are on-topic and not abusive.
For more information, please see our Comments FAQ