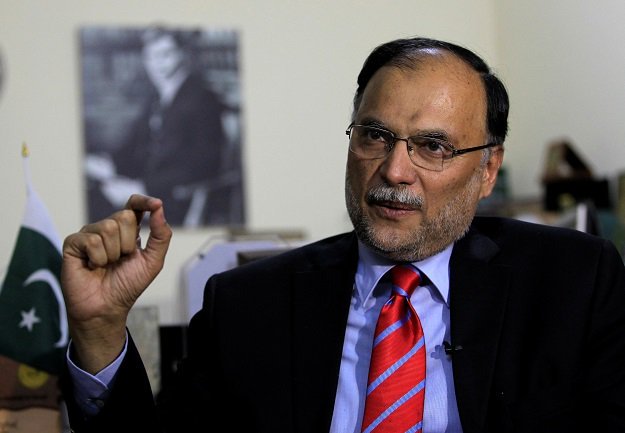 ---
Minister for Interior Ahsan Iqbal while addressing the media on Saturday in Multan said that Pakistan has become a rising economy within the last five years and more progression will be seen in no time.

Talking to journalists, Iqbal said, "There are 1400 km highways in neighbouring countries and that's how you'll know Pakistan is progressing fast. We have created 16, 000 to 1800 megawatt electricity it's a record in Pakistan's history."

"Human resource has been provided funds on all fronts and there has been massive financial allocation in development and education sectors," Iqbal maintained.

Growth rates achieved during military regimes were artificial: Ahsan Iqbal

He reiterated saying that Pakistan has seen highest growth rate in last five years. "Our industrial production has been highest in 9 years, growth momentum is impeccable. Pakistan is rising and we have to ensure that policies are implemented well, there's no extremism and we have to continue working to strengthen democracy."

"We want to be top 25 economies and we will achieve the target," Iqbal expressed.

Over the disqualification of former premier Nawaz Sharif, Iqbal said, "The world has put forward criticism saying that the verdict was incredibly questionable. If they think that questioning disqualification would lead to notices then the half of the world raising their voices against this matter should be given notices."

Iqbal said that Musharraf is the biggest perpetrator of contempt of court – he should be held by the courts first. If courts want deterrence then they should find Musharraf and hold him accountable.

"If Musharraf has not been given notices then I don't feel the court is fair, he should be sent to Adiala jail and that's the day I will believe court is just."

Iqbal had earlier said that higher growth rates Pakistan achieved during military regimes were 'artificial' and led through the inflow of dollars.

"People often say the growth rate during military regimes was higher than the one in democratic regimes," Iqbal said, while addressing the business community at the Lahore Chamber of Commerce and Industries.

"Don't compare apples with oranges; whenever the country achieves 6% growth rate during a military regime, it is due to certain events," he added.

"Take the example of Musharraf's regime where initially, the growth rate was stagnant at 2.5% for the first three years. After 9/11, Pakistan observed the inflow of liquidity in the shape of dollars as we partnered in the war on terror, which resulted in 6% growth for some years," Iqbal explained.