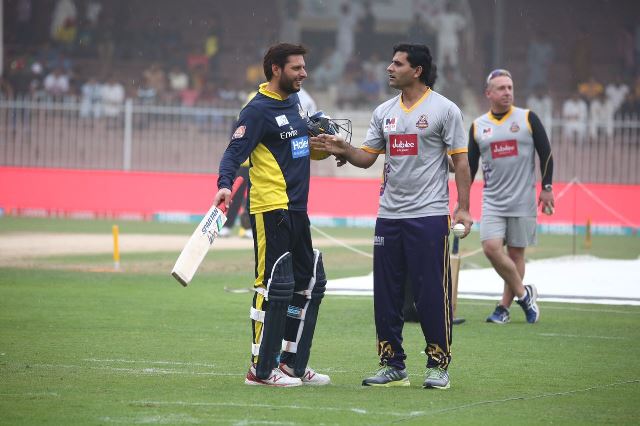 ---
Pakistani cricket legends Wasim Akram, Shahid Afridi, Abdul Razzaq and Shoaib Akhtar have joined other former cricketers for the annual St Moritz Ice Cricket tournament being held in Switzerland on February 8 and 9.

The two-team T20 tournament will be held in the Swiss Alps. The pitch consists of an artificial turf carpet laid out on a snow field. Teams Badrutt's Palace Diamonds and Royals have enlisted former cricket stars from around the world to compete in the event.

https://twitter.com/IceCricketCH/status/959718052525953026

The Royals team comprises of legendary players from England, Pakistan, South Africa and New Zealand while Badrutt's Palace Diamonds team comprises of iconic players from India, Sri Lanka, Australia and West Indies.

While all-rounders Razzaq, Afridi and Akhtar have joined the Royals squad, Akram is participating in the tournament as a mentor.


The sight of the tent houses on the frozen lake looks exquisite, isn't it!?
The players, the stadium and the audience are all pumped-up for the game! On the scale of 0 to 10, how excited are you?
Book your spot at https://t.co/vfxkkL2NYs#SwissICEcricket #InSwitzerland #Stmoritz pic.twitter.com/VCQSISweJc

— St. Moritz Ice Cricket (@IceCricketCH) January 25, 2018


Although ice cricket has been played in St Moritz for 25 years, this is the first time the event has garnered renowned cricketers as participants.

The St Moritz lake freezes into an extremely thick layer of ice in winters which is then is covered by soft falling snow. This process enables the lake to withstand more than 200 tons of weight, which makes it perfect for sports.

Expressing his excitement about the upcoming event Akhtar tweeted.


You want to watch something rare and special. On Feb 8th and 9th, I will be battling it out , playing Ice Cricket with the best cricketers in the world in Switzerland. But yaar , thand bahut hai #AbJamegiKulfi #shoaibakhtar #Rawalpindiexpress #Cricketonice pic.twitter.com/d9jplpWSPk

— Shoaib Akhtar (@shoaib100mph) February 2, 2018




The teams in detail:

Afridi's XI

Team Royals

Jacques Kallis (South Africa)

Graeme Smith (South Africa)

Daniel Vettori (New Zealand)

Grant Elliott (New Zealand)

Nathan McCullum (New Zealand)

Owais Shah (England)

Monty Panesar (England)

Shahid Afridi (Pakistan)

Shoaib Akthar (Pakistan)

Abdul Razzaq (Pakistan)

Matt Prior (England)

Aidan Andrews (Switzerland)



Sehwag's XI

Badrutt's Palace Diamonds

Virender Sehwag (India)

Ajit Agarkar (India)

Michael Hussey (Australia)

Mohammad Kaif (India)

Zaheer Khan (India)

Andrew Symonds (Australia)

Tillakaratne Dilshan (Sri Lanka)

Rohan Jain (Switzerland)

Mahela Jayawardene (Sri Lanka)

Lasith Malinga (Sri Lanka)

Ramesh Powar (India)

Mithun Manhas (India)
COMMENTS
Comments are moderated and generally will be posted if they are on-topic and not abusive.
For more information, please see our Comments FAQ