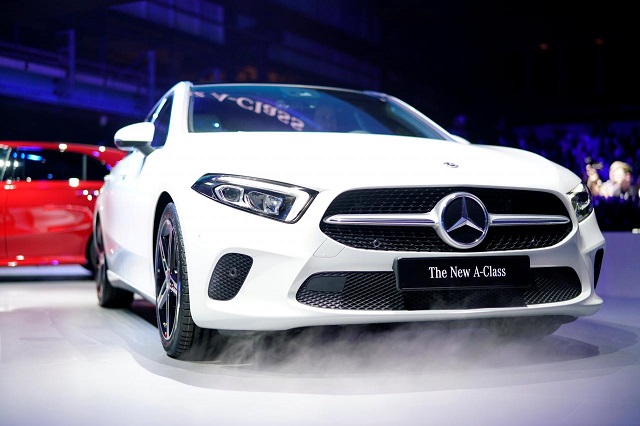 ---
Daimler's new Mercedes A-Class, unveiled on Friday, includes the German automaker's own machine-learning and voice recognition technology in one of the industry's boldest attempts so far to take on Silicon Valley's finest.

The Mercedes "MBUX" dashboard system to be rolled out across the lineup is about as capable at understanding what you say - and more importantly what you mean - as Amazon's Alexa, Apple's Siri or Alphabet's Google Assistant.

Its debut comes as carmakers are embroiled in a tech arms race, raising questions about the ultimate profitability of new services that often duplicate those available on smartphones. Daimler itself warned on Thursday that 2018 profit growth would be dampened by technology investment.

Hyundai Motor invests in ride-hailing firm Grab

Carmakers, especially premium manufacturers, are resisting the encroachment of tech giants on several fronts including autonomous driving and connected services - whose commercial potential multiplies with voice recognition and assistance.

"It's fine to have Google or Amazon voice apps sitting alongside the main one, but no car company wants the voice activation that controls the air con to be Alexa," said Mike Ramsey, a Detroit-based analyst with tech research firm Gartner.

The Daimler system "narrows the gap with tech," Ramsey said. "If it works as advertised, Mercedes will have set a new standard and given hope to other automakers that they can build a voice interface that actually works like Siri or Google."

Mercedes is updating its A-Class with a new look and engines, roomier interior and semi-autonomous driving features that can help pilot the car in highway traffic.

But its biggest draw is the MBUX system, presented on two large horizontal touch-screens that dispense entirely with dashboard instruments.

It uses artificial intelligence to make sense of commands and even anticipate them by learning the preferences and habits of up to eight different users. Spoken instructions can command everything from navigation to infotainment.

Other auto brands have taken a more affordable approach, often using "mirroring", which grants access to smartphone apps via a touch-screen interface. Some also route vocal commands straight to Siri, Alexa or Google.

'NO CHOICE'

Daimler hopes customers already used to voice assistants won't miss Siri or Alexa when they climb aboard and must remember to preface requests with "hey Mercedes" instead.

The A-Class could be a test of whether carmakers can make bespoke voice assistants a selling point that customers are prepared to pay more for.

Daimler Chief Executive Dieter Zetsche rebuffed that idea.

"We've tested it already," he told reporters at the Amsterdam launch. "We don't test on our customers."

Unlike its cloud-based rivals, available only when online, the Mercedes assistant uses embedded software from Nuance Communications, a Massachusetts-based voice recognition specialist, to continue functioning when data connections fail.

Mercedes declined to say whether the current A-Class starting price of 24,000 euros ($30,000) would rise with the new model. But its profitability will, Zetsche insisted - citing axles among mechanical components where savings had been found to offset higher tech spending.

Carmakers now have "no choice" but to put their best technology into their smallest cars, Evercore analyst Arndt Ellinghorst said. "Otherwise those cars would be uncompetitive."

"Everyone's using Waze for navigation on their mobile phones because onboard navigation systems are so outdated," he said. "These things need to change."

One million Mercedes to be recalled globally after 51 vehicles catch fire

The technology giants are pushing harder for dashboard space. Apple's CarPlay mirroring service includes Siri and is now available on more than 200 vehicle models, while a three-year effort by Amazon has placed Alexa in Ford and Toyota cars.

Suppliers are also jostling. At the CES tech show in Las Vegas, Panasonic showcased an upgraded infotainment system based on Google software, allowing drivers to use voice commands to pull up directions or access some vehicle controls.

The growing interest among suppliers, and Nuance's embedded software technology may open the way for other carmakers to follow Daimler's lead, Gartner's Ramsey predicts.

"Really slick integration of voice activation systems is the big tech thing we're going to see in cars over the next couple of years," he said.