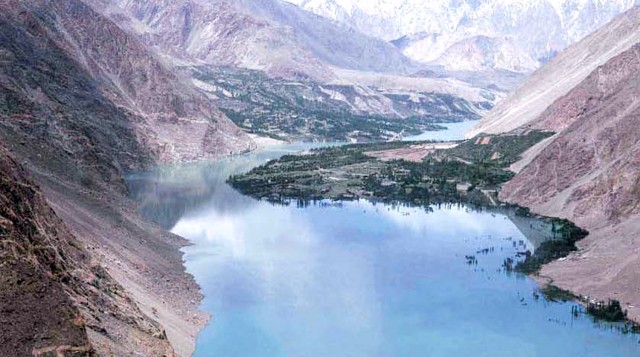 ---
GILGIT: Water from the Attabad lake has completely submerged Lower Shishkat and partially flooded Gilmat, reports indicated on Tuesday.

However, the speed at which the lake's water level was rising has slowed down because the lake is expanding upstream now, said Assistant Commissioner Hunza, Zamir Abbas. He said the water is still 8.4 feet short of the spillway, meaning that it will be another four days before water begins to stream out of the lake. Abbas said that the width of the lake was also spreading steadily as water inflow increased. "At least eight houses are falling at risk in Hussaini area and may be flooded as the lake expands," he said.

The expanding lake - created as a result of a massive landslide on January 4 - has submerged several villages upstream so far and has damaged about 25 kilometres of the Karakoram Highway. Different organisations monitoring the lake have been providing contradictory figures about the difference between the spillway and water level in the lake in recent days. Officials had earlier said that the water would reach the spillway by May 25. An official in the Public Works Department said on Tuesday that the difference between water in the lake and the spillway was 9 feet while some other officials said it was around 4 feet.

"Water will spill out of the lake in another three to four days as the total volume of water in the lake stands at 0.33 million acre feet," the official from the Public Works Department said, requesting anonymity. He said the inflow at the lake is 2,800 cusecs while the outflow is minimal, around 200 cusecs. Meanwhile, army helicopters and troops have been deployed in affected areas to help people evacuate, an official with the National Disaster Management Authority said. He said the army had established a control room to help locals and provide information to people if a major flood or other incident occurs.

He said about 930 individuals from Ainabad, Shishkat and Gulkmit villages had been shifted to safer places. "Based on the worst case scenario, some 25 villages in Hunza- Nagar and 16 villages in Gilgit can be affected," he said. About the coordination mechanism, he said that a three-tier command and control system had been devised according to which three control rooms had been established at Hunza, Gilgit and NDMA (Islamabad). Relief activities in the region continued as UNICEF provided 750 toilets and potable water supply which is capable of catering to the needs of up to 30,000 people.

The World Health Organisation donated six medical modules and one cholera kit to affected locals while the Pakistan Red Crescent Society donated 2,500 NFI kits towards the cause. The World Food Programme sent four generators for hospitals looking after IDPs in Hunza and Nagar. Meanwhile, about six helicopters airlifted people to safety throughout the day from Gilgit to Gojal.

Published in the Express Tribune, May 26th, 2010.