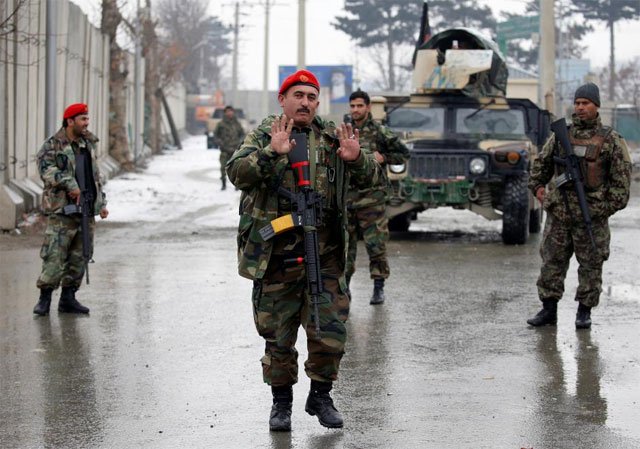 ---
Both Pakistan and Afghanistan are fighting a three-front war. One, against terrorism and the other, against corruption. A third front also exists but compared to the other two it is not as serious. This one relates to the on-again, off-again border skirmishes between Pakistan and Afghanistan.

The fact of the matter is the escalating terrorism within their respective countries seems largely to be feeding heavily on corruption as the counter-offensive being waged against sleaze and fraud in the two countries seems to have already conceded defeat.

In both countries most resources needed badly to lift the masses out of poverty are being diverted from public coffers to private pockets by the very people who are supposed to invest these resources in public works programmes meant to provide affordable healthcare, education, transport, communication facilities and housing to the have-nots among their citizens.

Pakistan to look into Afghanistan's 'undeniable evidence'

The issue of one owning assets beyond one's means is not confined only to the ruling elite in Pakistan. This cancer has touched even the lowliest of minions wielding even the flimsiest of powers. The expanding sea of the black economy is a clear manifestation of burgeoning corruption in the country, a small portion of which is on display for everyone to see in the real estate sector.

It is the same in Afghanistan as well. Public money is being diverted to private pockets with total impunity compounded further by the narcotics business in which all the three contestants  — the Afghan Taliban, the anti-Taliban Afghans and the US troops — are involved neck-deep.

According to a Washington Post report, corruption has left the only route connecting Kabul with Afghanistan's northern provinces decrepit, undermining million-dollar repaving efforts and billions of dollars in foreign donations for road improvements.

The Salang Pass hasn't been sustainably paved in decades .Today, it is virtually impossible to safely traverse the pass as a result of both natural hazards and negligent construction. More than a 100 people die on the road to the tunnel at the top of the Salang Pass each year. There are no guardrails and repairs have only been attempted once.

The tunnel is filled with dust and debris, having been built to withstand a traffic load of only one to two thousand vehicles. The road through the tunnel, once paved, is now simply dirt because of a lack of maintenance.

An anonymous World Bank representative has said that contracted companies siphoned money from the budget and hired sub-contractors who used cheap material that could not withstand cold temperatures and frequent traffic. The ministry of public works granted contracts that were often sub-contracted multiple times to pavers who took private cuts of public funds, according to Deputy Minister Abdul Rahman Salahi.

Any breakdown in Pak-US relations will be a big mistake: Aizaz Chaudhry

Qayoom Suroush, a former road infrastructure researcher at Afghanistan Analysts Network, emphasised that road construction is a lucrative opportunity for embezzlement.

"If you ask any Afghan, they will tell you that road-building is one of the most profitable [ventures] in the country for corrupt people," Suroush told the paper.

"Corruption has blocked Afghanistan from being self-reliant and free. And corruption has wasted a vast amount of precious resources that could otherwise have been spent reducing Afghanistan's crushing levels of poverty," President Ghani said last year.

"The US contributed to the growth of corruption by injecting tens of billions of dollars into the Afghan economy, using flawed oversight and contracting practices, and partnering with malign powerbrokers," concluded a 2016 report from the office of the US Special Inspector General for Afghan Reconstruction.

A huge part of the siphoned off resources is said to find its way into the coffers of terrorists in both countries. Therefore, ultimately, it seems both Pakistan and Afghanistan need to reduce corruption in their respective countries to an irreducible minimum if they wish to eliminate terrorism from their midst.

Published in The Express Tribune, February 3rd, 2018.

Like Opinion & Editorial on Facebook, follow @ETOpEd on Twitter to receive all updates on all our daily pieces.
COMMENTS (1)
Comments are moderated and generally will be posted if they are on-topic and not abusive.
For more information, please see our Comments FAQ