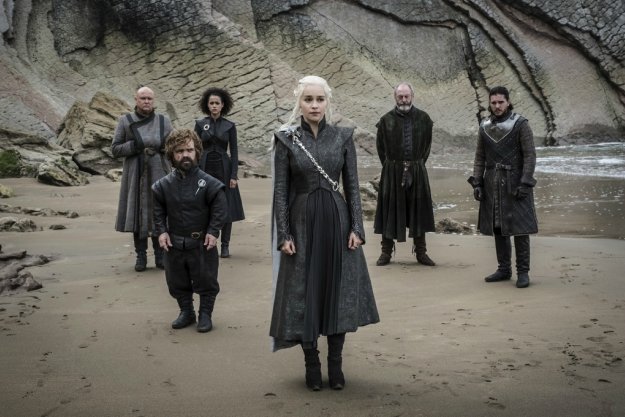 ---
A massive spoiler for Game of Thrones' final season has been unveiled, with fans hanging around near the sets in Belfast capturing a pivotal moment which points to a huge plot twist.
WARNING: SPOILER ALERT!!
According to
 The Sun, 
the footage which is now viral on social media  and shot close to where the filming is taking place, shows a towering inferno, which looks just like Winterfell, the Stark family home.
Previously, the production team revealed that the eighth and final season of the show is now well underway.
'Game of Thrones' confirms skipping 2018 for a final season next year
"There's been a lot of smoke on the set over the last few days, not to mention lots of armed extras, but nothing could have prepared us for this. This is huge. It looks like Winterfell is done for," one Twitter user wrote.
OMG WINTERFELL 😱😱 THIS IS HUGE https://t.co/nmCTtoz3ot

— ℝίτα⚡ (@JonxDanyy) January 31, 2018
The obvious question is: what caused this? Zombie Viserion? Yes, his flame breath burns blue, but that's only when it's bursting out of his mouth — it might turn red when it cools for a second. And they could colour the flames in post-production, anyway.
Fans of the "Mad Queen" theory may think that Daenerys, or at least her dragons, are behind this. And we can't forget that Queen Cersei Lannister has a history of blowing up important buildings.
Other pictures that have been posted on Twitter reveal that a big battle scene has also been filmed this week.
The massive shoot is said to have involved more than 200 extras on set.
Twitteratis are comparing SRK to Game of Thrones' character Tyrion Lannister
Season eight is due to hit screens next year, but fans have no idea what to expect from the plot since the show has broken away from George RR Martin's books, on which the series is based.
He wrote five books which provided the basis for the episodes, but fans have been left waiting seven years for the next book — 
The Winds Of Winter.
The apparent spoiler comes after Peter Dinklage admitted the end of the show will be "heartbreaking".
The actor, who plays Tyrion Lannister, told the fan site Watchers on the Wall that "it was heartbreaking and the end of an era."
He said, "Everybody has to wait just like everybody else — family, friends. We live in a world of spoilers and we keep it quiet. We're really good at this point."
Season eight is due next year and is said to include movie-length episodes.
Have something to add to the story? Share it in the comments below. 
COMMENTS
Comments are moderated and generally will be posted if they are on-topic and not abusive.
For more information, please see our Comments FAQ