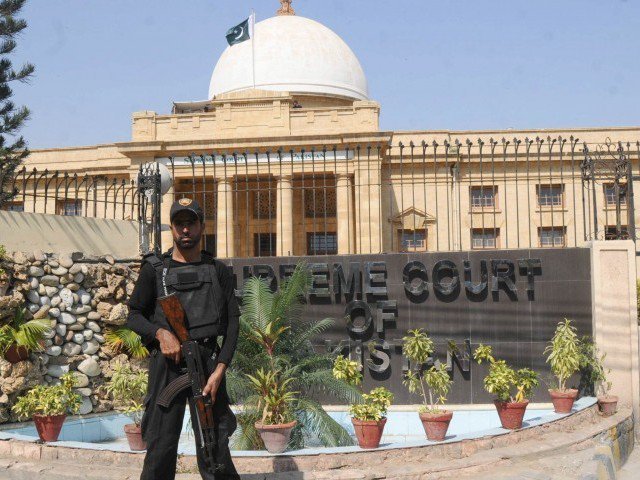 ---
KARACHI: The Supreme Court (SC) issued on Thursday notices to the provincial advocate-general and Karachi Development Authority (KDA) administration in a case of encroachments on 35,000 amenity plots in the city. A two-judge bench, comprising Justice Gulzar Ahmed and Justice Maqbool Baqar, will take up the case at the SC's Karachi Registry tomorrow (Saturday).

The SC had given a three-day deadline to KDA Land Director Syed Arshad Abbas on November 29 last year to get thousands of public recreational places cleared of illegal encroachments.

Earlier, KDA Director-General Samiuddin Siddiqui had disclosed that around 35,000 amenity plots in different parts of the city had been encroached upon through 'China-cutting' - a term used in Karachi for the illegal occupation of state or private land by carving the land into smaller plots.

In a compliance report, the KDA land director had informed the court that the authority managed to retrieve only 1,569 amenity plots from land grabbers in the city, leaving over 33,400 recreational spaces under encroachment.

KDA has little to show for 'massive' encroachment drives

According to the report 1,569 amenity plots were retrieved via demolition operations against 239 houses, 509 structures, 204 boundary walls, 371 shops, 167 marriage halls, 12 hotels, four dispensaries/hospitals and 18 thallas (paved works). The report stated that operations were also carried out at eight amenity plots illegally converted into commercial plots, 14 plots turned into warehouses, four offices, 12 farmhouses and seven illegal cattle pens.

Out of the total operations, 189 operations were carried out in Gulistan-e-Jauhar Scheme 36, 22 in Gulshan-e-Iqbal Scheme 24, 274 in North Karachi, 847 in Surjani Town Scheme 41, 104 in Korangi, 43 in Landhi, 38 in Federal B Area Scheme 16, 22 in North Nazimabad, 28 in Malir and two in Shah Faisal Colony.

Abbas had also claimed that the authority wrote letters to the Sindh Building Control Authority's (SBCA) master plan department, requesting verifications of all the amenity and commercial plots in the city and demanding maps of areas falling within the KDA jurisdiction.

"However, the [SBCA] department failed to provide the required information within the stipulated time, due to which the operation was delayed," Abbas said, adding that the KDA officers had numerous meetings prior to and after removal of encroachments to review and discuss the anti-encroachment operation.

SC to take up seven major cases today



Former nazim's plea

The bench will also take up a seven-year-old petition, filed by former Karachi nazim Advocate Niamatullah Khan in 2010, against illegal conversion of public spaces for residential and commercial purposes in the metropolis.

In his petition, the former nazim had accused political parties of setting up offices on 127 amenity plots and parcelling out another 35 plots and some parkland for residential and commercial purposes over the past four years.

Khan had pleaded to the court to declare the conversion of public land and amenity plots to any other purpose or use as a gross violation of the fundamental rights of citizens and liable to be set at naught.

The former city nazim also requested the court to hold that the land or plots he had mentioned in the petition belonged to the public at large and should be allocated and maintained for their recreation. He had also questioned the authority of the local government to convert the public land and amenity plots into residential or commercial estate or to allot these to any person or authorise construction over the same.

NAB swings into action in China-cutting cases

Similarly, the petitioner also asked whether any political party, group or coalition could establish its party or camp offices on such land.