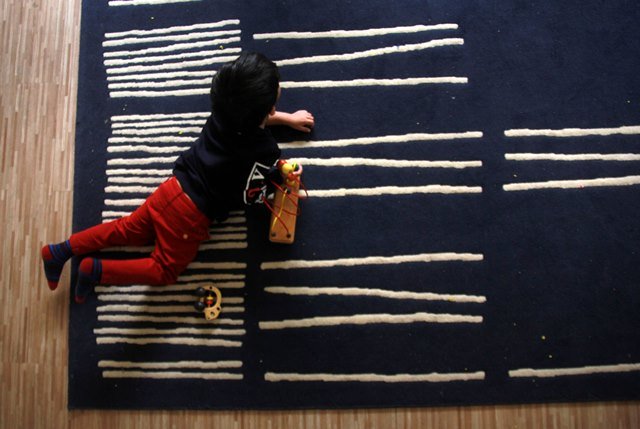 ---
KARACHI: In a world full of stress and competition, Veritas Learning Circle (VLC) encourages children to be children. They play, listen to stories, get messy and learn.

"The mindset in Pakistan about schooling is slightly different from mine," said Muzaffar Bukhari, the founder principal of the school. With a background in finance, Bukhari is not what one would typically assume a principal to be.

"I am a product of a very mainstream, traditional education where the rankings really mattered. I remember the stress and the anxiety I felt growing up where the feeling of my self-worth was attached to my report card," he explained. He now uses his experience as a trainee counselor to counsel both parents and children.

KU students take slum children off the streets and into the classroom

"The schooling system [in Pakistan] is exactly as it was 30 years ago when I was going through it," said Bukhari. After extensive research he came upon the Finnish model, which is the best in the world. Even in times of stress, the Finns were very calm and composed, he said, adding that after studying alongside them, he found that they were happier individuals. Bukhari visited Finland from where he brought on board an educationist to set up a system on the lines of the Finnish system in Pakistan.

"I wanted to create a space where the children learn not just from the teachers but from other children and the space," he explained, adding that he has made the space inviting and welcoming for children.

And his approach worked.




"I've been through [traditional schooling] myself and I'm fed up," said Nida, a parent whose son has been attending VLC for the past four months. She described the school as a 'heaven for both parents and kids'. She said the school's non-traditional approach really appealed to her, as did the creative, family-like environment. "My child is happy and that's enough for me," she said in response to any 'helpful' criticism she may receive for not sending her child to a mainstream, established school.

Still a startup

Though the school was started in 2016, Bukhari wants to retain the startup mentality. He said he wants to retain the discipline of a startup and the personalised service offered.

He lamented that as a business, schooling in Pakistan is poorly run. Parents are paying us but they have to chase after us, he said, questioning why it seems like the more cumbersome you make the admission process, the more desirable the school becomes.

Footpath School equips children with the skills to fight back

"Parenting is a very challenging task to begin with," said Bukhari. "The anxieties of parents are very high," he said, adding that at VLC they aim to make the process smoother. I work with parents a lot and help them decide whether this is the right school for them and their children.  There are currently over 150 students enrolled at VLC, ranging from the ages of two to six. The school plans to expand and open an elementary school in August.




Respecting the individual

"Every child has an adult in them and that adult needs to be respected. They want to have the decision-making power, feel empowered and have choice, that's why we've structured the classrooms using child-led learning," explained Bukhari. He said that at VLC the teachers do not dictate, instead they create 'play invitations', allowing children to be drawn to different things and learn what works for them. The school has an emergent curriculum, according to the principal, who said it changes based on how the kids are responding.

The school focuses more on the child's emotional development and self-esteem – grades and exams can wait. According to Bukhari, when the child is ready, they show you signs that they are ready to hold a pencil and write. By forcing it on them, they will learn but it will compromise some other aspect of their personality.

Stressing the fact that VLC is not a preparatory school, Bukhari said they do not kill the ability of children to ask questions. We focus on age-appropriate milestones such as physical, emotional and social development, he said, adding that forcing children kills the joy of learning.

Schooling on wheels: Driven by the will to teach, mobile schools find their way

At VLC, children learn through play. They explore the school's garden and classrooms and learn the same facts they would learn in a mainstream school. The school is an inclusive space, according to Bukhari, with two out of a class of 20 children having special needs.

A diverse environment

With a monthly fee of Rs17,000, the school might be out of reach for some families but VLC has a solution to that – financial aid.

The school's financial aid programme is aimed at creating a diverse environment. Details of aid recipients are kept secret – only Bukhari and the school board know. "I don't want this place to be a bubble with only people from one social class. Any parents who believe in the happiness of their child, well, this is the place for you," said the principal.




A whole new world

VLC offers a number of modules, from carpentry to cooking, children are exposed to a host of activities. There are also French and Arabic classes. The school is all about healthy boundaries. There are designated walls for children to paint on and spaces where they can be messy but there are also spaces that have to be kept clean.

According to the principal, they are teaching the same curriculum as other schools in terms of milestones but the method of teaching is more application-based.

He said that rote learning is now a thing of the past because all the information you need is in your pocket. "Now the challenge is how to apply the data," he said.

At VLC, the students are exposed to whatever information a traditional system would expect them to know but in a different way.

If they are learning fractions, they do it while making a pizza in the school's kitchen.

I want every Pakistani child in school: Bilawal

They are taught to think outside the box and think on their feet.

The curriculum at VLC is based on SNAP – stories, nature, art and play. Their dedication to telling stories is apparent by the mini-libraries in each classroom. The books focus on mental health and emotions. "Stories you don't forget. Facts you do," said Bukhari, adding that learning through stories is more fun and engaging. The children are also exposed to nature, which is a both a much-needed break from technology and curiosity-evoking. They participate in gardening exercises and feed the school pets – a pony and tortoise.

Teachers, or facilitators as they are called at VLC, allow the children to be drawn to different things and incorporate that into their classroom curriculum.




According to Kiran, a teacher who has been with VLC since the beginning, there is a method to the madness. They focus on preference-led learning but do ensure that the children learn concepts, albeit without the terminology. Every activity has a goal, she explained, adding that they often focus on informal learning through songs and stories.

Another teacher, Aresha, said the school focuses on emotional health of children, which is very important. "We talk to the kids, we don't order them," she explained, adding that they explain why something is important or why it has to be done.

Shirin Karimjee, VLC's academic coordinator, feels that they are providing the kids all the skills they need to survive. "There is a structure here [at VLC] but each child is dealt with as an individual and at their own level," she said, adding that VLC isn't a factory. "We teach them to use their strengths to overcome their weaknesses," she said.

Pakistani student bags world's highest marks in Cambridge Mathematics exams

A VLC parent and teacher of Deen Kids, the theology module, Sabeen said when your child first starts school you want to know the ins and outs of their academic lives and, unlike VLC, many schools do not encourage parents' active involvement.

Here the doors are always open, she said, adding that the classes operate without pressuring children. Even if her son is not able to count to 100 or sing his ABCs like children who go to mainstream schools, she finds that he is growing in "other ways". "I'm happy and my child is happy. That's what matters," said Sabeen.
COMMENTS (1)
Comments are moderated and generally will be posted if they are on-topic and not abusive.
For more information, please see our Comments FAQ