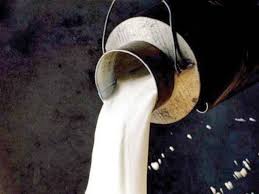 ---
KARACHI: Rejecting a request to order the Rangers to act against retailers not reducing milk prices, the Sindh High Court (SHC) issued notices to the Karachi commissioner and all deputy commissioners to explain what steps were taken by them in this regard.

A two-judge bench, headed by Justice Aqeel Ahmed Abbasi, further directed them to submit their replies in this regard by February 19.

The bench was hearing a petition filed by civil rights campaigner Muhammed Imran Shahzad seeking reduction in prices of dairy products and establishment of a local taskforce to regulate their prices.

In his plea, the petitioner said that the authorities concerned were fixing the prices of dairy products by not following the procedure provided under the Price Control and Prevention of Profiteering and Hoarding Act, 1977.

He recalled that the high court had, in August 2016, directed the authorities concerned to form a mechanism to control and maintain the prices of dairy products. However, milk prices were increased in violation of the court's earlier order, he alleged.

PFA seals bakery, discards food, adulterated milk

The judges were further informed that the court had on August 23, 2013 directed the city commissioner and others concerned devise a mechanism to control and maintain the prices of dairy products, including milk.

The petitioner had alleged that the mafia had once again unilaterally and illegally increased the milk price in violation of the court's order.

He had argued that the increase in the price of milk was unjust given the decreasing prices of petroleum products in international and local markets. He mentioned that the price of milk was fixed at Rs70 per litre when the price of petrol was Rs110 per litre.

Pursuant to the court's earlier order, he said the commissioner had on April 9, 2012 notified retail price of milk at Rs70 per litre, but the dairy farmers increased the rate to Rs84 per litre on the pretext of increase in petroleum products.

Shahzad added that later the dairy farmers proposed to further increase price to Rs94 per litre without any justification, as the prices of all commodities and fuels had decreased.

Apex court orders lab tests of packed milk in Sindh

He had pleaded to the court to order law enforcement agencies to launch a crackdown against the traders selling the commodity at exorbitant prices. A direction was also sought for the Rangers and police to ensure the sale of milk at reasonable prices.

During Thursday's proceedings, the petitioner moved an application, pleading to the court to direct the Rangers take action against those overcharging customers for milk.

However, the judges rejected the plea and issued notices to the Karachi commissioner and deputy commissioners to submit their replies, mentioning steps taken to ensure reduction in milk price. The hearing was adjourned till February 19.
COMMENTS (1)
Comments are moderated and generally will be posted if they are on-topic and not abusive.
For more information, please see our Comments FAQ