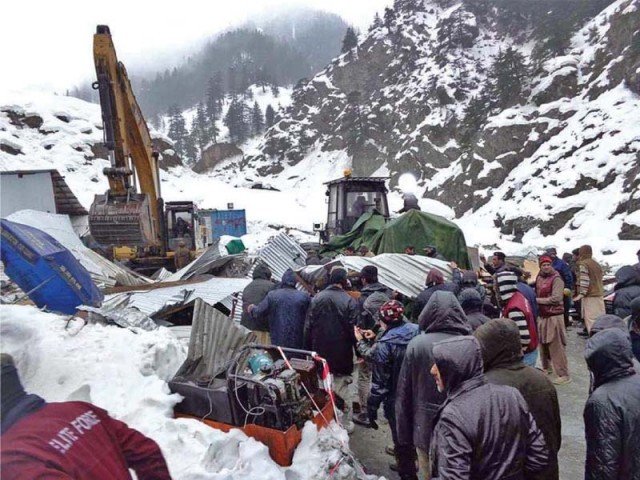 ---
CHITRAL: A man and his son were killed when an avalanche hit the Lowari Top on Chitral's side on Thursday, officials said.

Lowari Pass, or Lowari Top, is a high mountain pass that connects Chitral with Dir in Khyber-Pakhtunkhwa (K-P).

The deceased, employees at a telecom company's tower, were on the way to their work when hit by the avalanche, said a representative of the deputy commissioner office Chitral. They were identified as Nooruddin and Abdullah.

Another man accompanying them managed to escape the avalanche unhurt.

The Provincial Disaster Management Authority (PDMA) K-P had warned that aftershocks of Wednesday's earthquake may cause risk of avalanches in Chitral district.

At least two people were killed and several others injured in yesterday's earthquake that hit almost all areas of the country. According to the Pakistan Meteorological Department (PMD) the earthquake's epicenter was the Hindu Kush region, measuring 6.1 on the Richter scale. In Pakistan, the quake was measured 4.9.

The deputy commissioner's office said that both men were missing till the filing of this report and assumed dead, adding that a rescue operation to retrieve the bodies was underway.

Seven labourers killed as avalanche hits Chitral's Lowari tunnel

Rescue teams from Mardan were dispatched to Drosh, Chitral upon the directions of the DG PDMA Khyber-Pakhtunkhwa.

The teams were well-equipped and fully capable of carrying out the rescue activities.

Severe weather hits the country every year, with avalanches in winter and flash floods in summer.

At least 13 people were killed and 20 homes destroyed by avalanches and heavy rain which struck the region last year, while the death toll in neighbouring Afghanistan remained 200.