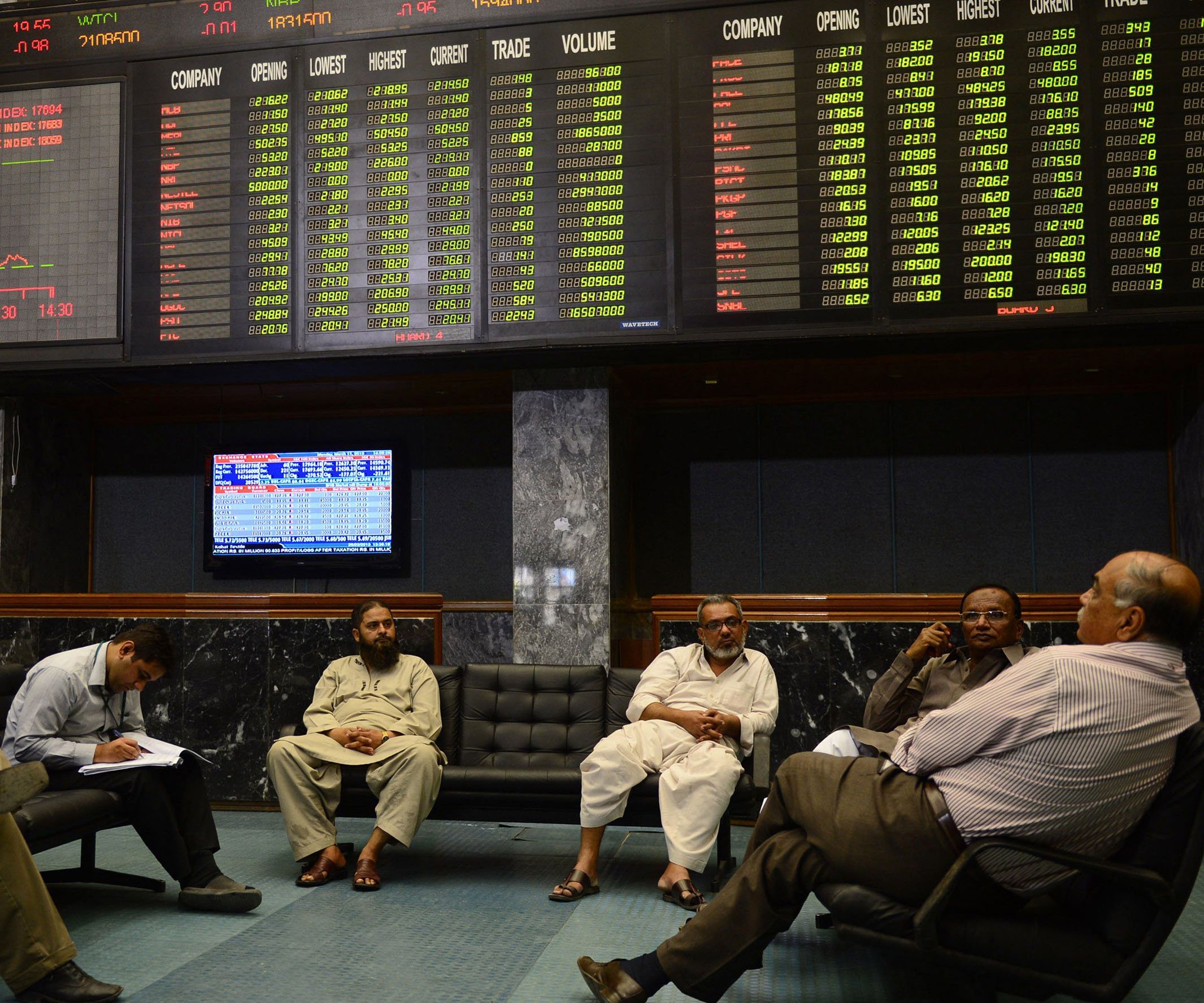 ---
KARACHI: The stock market snapped its five-day losing streak on Thursday as the index rose over 200 points to end the day above 44,250.

After dropping continuously for the past few sessions, the index seemed to have found its resistance level as it has started moving upwards.

Trading began on a positive note, pushing the KSE-100 Index up 387 points, and it hit an intra-day high of 44,436.39 points. Buying interest emerged in the wake of recovery in cement stocks and investors' focus on chemical, engineering and oil shares.

Later in the day, the market dipped significantly, which wiped off most of the gains, but it still managed to close in the black.

At the end of trading, the benchmark KSE 100-share Index showed an increase of 206.43 points or 0.47% at 44,255.48.

Elixir Securities' analyst Zainul Abedin said Pakistan equities resumed their climb and the KSE-100 gained 0.5%.

"The market started the day on a positive note and displayed relative strength on the back of a sharp recovery in cement stocks amid strong institutional flows. Lucky Cement (+3.2%) and DG Khan Cement (DGKC, +3.1%) led the gains," he said.

Market watch: KSE-100 falls 184 points, ends fifth straight session in red

Financial stocks, on the other hand, showed a mixed movement. Index-heavy Habib Bank (HBL, +2.3%) went up and contributed the most positive points to the index while United Bank (UBL, -1.5%) continued to be on the losing streak on institutional selling pressure and was the top loser on the KSE-100 Index.

"CPI inflation reading for January 2018 at 4.42% year-on-year, despite coming a little lower than consensus, did not have any material impact on stock prices," he said.

A major highlight of the day was the announcement by Dawood Hercules (+5%) near the day's end where it notified investors of a potential sale of its entire shareholding in Hub Power (+1.9%) to Mega Conglomerate for Rs106.5 per share subject to regulatory approvals.

"[We] see volatile trading continuing in the days ahead with chartists flagging the range between 44,800 and 45,000 as the key barrier," the analyst said.

JS Global analyst Maaz Mulla said the KSE-100 Index, after five days of consecutive decline, finally exhibited some relief.

"On the political front, Pakistan may face considerable cuts in US assistance after President Donald Trump asked Congress to pass legislation to ensure that US aid is not provided to countries, which voted against the decision to recognise Jerusalem as Israel's capital in the UN General Assembly," said Mulla.

"On the economic front, the government of Pakistan borrowed over Rs1.8 trillion in the T-bills' auction where no bids were received for six-month and 12-month papers."

Market watch: KSE-100 closes fourth consecutive session in red

Positivity was mainly seen in the cement sector as provisional numbers for January 2018 were expected to show 14% growth. Major cement players closed in the green including Pioneer Cement (+5%), which closed at its upper circuit, DG Khan Cement (+3.09%) and Lucky Cement (+3.22%) .

The inflation number for January came in at 4.42% as opposed to a consensus of 4.70%. Mixed sentiments were seen in the banking sector where banks such as HBL (+2.28%), Askari Bank (+1.90%) were positive while MCB Bank (-1.12%) and UBL (-1.45%) were the major laggards.

In the exploration and production sector, Pakistan Oilfields (+1.07%), Pakistan Petroleum (+0.12%) and Oil and Gas Development Company (+0.57%) remained in the green as oil prices ticked higher in the international market.

"Moving forward, we expect the market to remain volatile in upcoming sessions unless activities from foreigners and local institutions pick up pace. However, the earnings season is expected to keep investors' sentiments running," the analyst added.

Overall, trading volumes decreased to 228 million shares compared with Wednesday's tally of 288 million.

Shares of 379 companies were traded. At the end of the day, 214 stocks closed higher, 150 declined while 15 remained unchanged. The value of shares traded during the day was Rs9.8 billion.

WorldCall Telecom was the volume leader with 23.8 million shares, gaining Rs0.10 to close at Rs2.67. It was followed by Fauji Foods with 13.1 million shares, losing Rs0.78 to close at Rs20.20 and Aisha Steel Mills with 10.9 million shares, gaining Rs0.67 to close at Rs22.19.

Foreign institutional investors were net sellers of Rs455.8 million during the trading session, according to data compiled by the National Clearing Company of Pakistan.
COMMENTS
Comments are moderated and generally will be posted if they are on-topic and not abusive.
For more information, please see our Comments FAQ