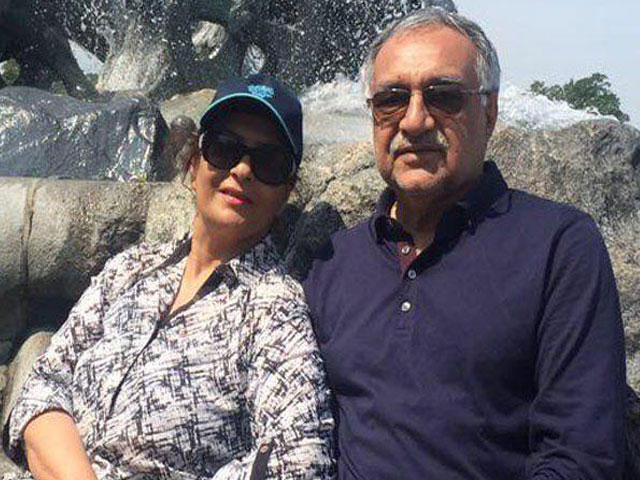 ---
KARACHI: Sindh Minister for Planning and Development Mir Hazar Khan Bijarani was found shot dead with his wife Fariha Razaque in his house in Karachi on Thursday, his family and police said.

The bodies were found in a room. Bijarani was lying on a sofa while his wife was on the floor bleeding from head. Police said they recovered a 30-bore pistol and four bullet casings from the room.

"We have found pistol near Bijarani sahib and one bullet was stuck in it," SSP Raja Umder Khitab told The Express Tribune. However, he added that it would be premature to say whether it was a suicide incident or someone had killed them.

Body of MQM-L leader found near Ibrahim Hyderi

The bodies were shifted to the Jinnah Hospital for legal formalities. A medico-legal officer (MLO) told The Express Tribune on condition of anonymity that Bijarani was shot a single bullet to his right temple from a very close range and it went through the head. "Apparently it looked like a suicide case," he added.

Dr Seemin Jamali, the Executive Director of the Jinnah Hospital, said both the bodies were brought dead to hospital around 5.45 pm. Referring to the post-mortem report, she confirmed that the cause of the deaths was gunshot wounds.

"Bijarani's X-rays had confirmed one bullet wound whereas his wife suffered three bullet wounds, one each on head, abdomen and pelvic area," she added.

Doctor, girl found dead in Islamabad guest house under mysterious circumstances

The autopsy was conducted by senior medico-legal officers, including the police surgeon and additional police surgeon, of the JPMC, the Civil Hospital and the Abbasi Shaheed Hospital. The final medico-legal report was expected to be released in a few days.

Police have taken into custody five employees of Bijarani, including his cook, gunman and driver, for investigation.  "A high level inquiry team has been ordered and we can't comment on it," Sindh Home Minister Anwar Sial said.

The incident took place at 6am, when the employees in the house heard gunshots. "Since, we were not allowed to go inside the room, we could not dare to ask about firing," one of his employees said.


Shocked and horrified by the tragic news of the murder of Minister Mir Hazar Khan Bijarani and his wife today. My thoughts and prayers are with their family and may Allah give them strength during this incredibly difficult time

— Aseefa B Zardari (@AseefaBZ) February 1, 2018
Socked and saddened by the news of Fariah & Mir Hazar Khan Bijarani's death. Thoughts and prayers with their friends & family. Immense loss to the Party & country. https://t.co/bJmaPDb5Od

— BilawalBhuttoZardari (@BBhuttoZardari) February 1, 2018


When they went to serve the breakfast in the morning and knocked at the door of the bedroom, there was no response.  "Begum Sahiba had an appointment with doctor at 12 pm. We again went to see her. On receiving no response we broke the door and found them dead," he said.

Later, they informed the police and Bijarani's friends and family members.

Fariha Razaque, a former journalist who also served as PPP MPA from 2002 to 2007 was Bijarani's second wife with whom he had no children. The couple had tied the knot in 2008.

According to family members, there was a dispute between the couple going on for the last few weeks and they had been shouting at each other in the bedroom.

"They had started to live separately some time ago. However, on interference of the family and friends, the issues were resolved and they started to live together in the same house a while ago," one of the family members said.

Sources privy to the issues said that Fariha Razaque was interested in active politics and desired to get a ticket on women's reserved seats in the Sindh Assembly. On January 14, the former MPA had hosted a dinner for the PPP leadership, including Bilawal, Bakhtawar, Aseefa Bhutto Zardari and Faryal Talpur at her residence.

https://twitter.com/BakhtawarBZ/status/959029802249392133


Very sad to hear about my friends Mir Hazar Khan Bijarani and Fariha Razzaq Haroon shot dead. May their souls rest in peace. Met him on Monday last & Fariha came over for lunch to my house on Saturday

— Dr. Arif Alvi (@ArifAlvi) February 1, 2018


As soon as the news of their death broke, Sindh Chief Minister Syed Murad Ali Shah, Sindh Assembly Speaker Agha Siraj Durrani, Deputy Speaker Shehla Raza, Home Minister Sial and several members of Sindh Assembly and the National Assembly arrived at the house.

A large number of people from Bijarani and other tribes of Kashmore, Kandhkot and other districts also gathered at his house, located in the posh Defence Phase V. A high-level inquiry has been ordered and the PPP has announced three days' mourning.

After the post-mortem, Bijarani's body was shifted to his native Karampur village in Kashmore district through an air-ambulance. He will be laid to rest in his ancestral graveyard.  The body of Fariha Razaque was handed over to her family in Karachi.

Mir Hazar Khan was the chieftain of the Bijarani tribe. He had two sons and three daughters with his first wife, who belongs to Karampur.

The veteran politician has served several times as federal and provincial minister during the tenures of the PPP.  Currently, his son Mir Shabir Bijarani is an MNA on a PPP ticket. His another son, Mir Mansoor Bijarani, is serving in a private bank in Islamabad.

Bijarani was a loyal leader of his party who started his parliamentary career as an MPA in Sindh in 1974. He served as provincial sports minister when Zulfikar Ali Bhutto was the prime minister of Pakistan.

He participated in the 1977 general election and won the seat from his village. In 1988, the party elected him as senator. He was elected MNA from NA 157 Jacobabad in 1990. In 1997, he once again won the National Assembly seat.

In 2002, he again won National Assembly seat, while his son Shabir Bijarani became the district nazim of Jacababad. In 2008, he won the National Assembly seat and served as federal minister for education in the Yusuf Raza Gilani cabinet. Later, his portfolio was changed and he was made federal minister for industries and production.

When Gilani was removed and Raja Parvez Ashraf became the prime minister, Bijarani was given the Inter-Provincial Coordination Ministry. In 2013, he was a strong candidate for the Sindh chief minister, but the PPP preferred Syed Qaim Ali Shah. Bijarani was given works and services department.

Later, he was made provincial minister for education before the incumbent Chief Minister, Murad Ali Shah, gave him the Planning and Development Department where he served till his death.

Bijarani's death was widely condoled by leaders of various political parties. Karampur and Kashmore towns remained closed after the news of his death.


Shocked and horrified by the tragic news of the murder of Minister Mir Hazar Khan Bijarani and his wife today. My thoughts and prayers are with their family and may Allah give them strength during this incredibly difficult time

— Aseefa B Zardari (@AseefaBZ) February 1, 2018
COMMENTS (7)
Comments are moderated and generally will be posted if they are on-topic and not abusive.
For more information, please see our Comments FAQ