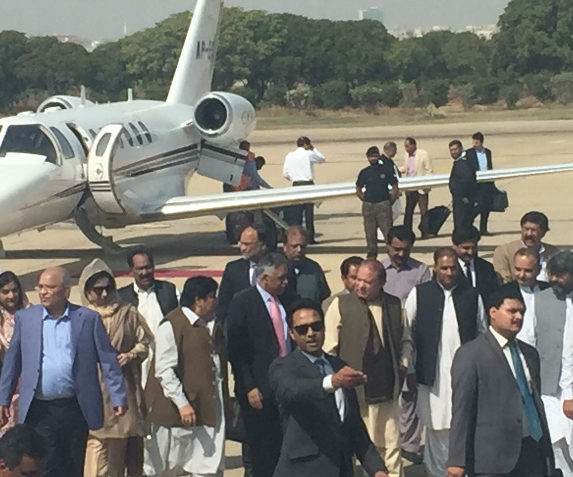 ---
KARACHI: Former prime minister Nawaz Sharif on Thursday claimed that efforts are afoot to keep him away from politics.

"I still don't know why they have ousted me. The nation is changing and the people of Pakistan clearly understand the sanctity of vote," he said, while addressing party workers at a local hotel in Karachi.

"If you think we [PML-N] are good enough and you give us a chance we will change the infrastructure of Sindh including its capital, Karachi, which has now been turned into garbage dump", he added.



Senate elections: Nawaz jetting to Karachi to muster support

Sharif was addressing a meeting of PML-N bigwigs held to devise a strategy for the upcoming elections, seat adjustment and alliance with other political parties in Sindh.

Interior Minister Ahsan Iqbal, Railways Minister Saad Rafique, minister for climate change Senator Mushahidullah Khan and former information minister Pervaiz Rashid, Abid Sher Ali were among others who interacted with local PML-N leaders.

Sharif, who is on two-day visit said, "Sindh should have been an exceptional province but there's so much poverty here." The education system in Sindh is despicable, the roads are in a horrendous condition and there's a lack of opportunities, we aim to change all of that if we are brought to power, he said.

Next elections will be referendum for new Pakistan: Nawaz Sharif

"We promised that we would end load shedding and we complied. When we took over, there was terrorism, poverty and now we have provided the people with agriculture, industry, power and there is progress for the nation," said Sharif.

"We inaugurated a project in Port Qasim running on coal. We believe that Sindh must give us the opportunity to bring a change. You should see now, the image of whole country is in front of you. See how it was in 2013 and see how it is now. We have the capacity to change Sindh. You can see the situation of K-P also, I will go there and see the situation myself, I will go and find this out myself. The so-called 'Naya Pakistan' is not new Pakistan because of them but us. We have done all the development," Sharif claimed.

Hitting back on his disqualification verdict, he said "There's a verdict which disqualified me – why did they disqualify me, no one knows yet." He added that it's a self-created situation and they have tried their best to keep me away from contesting the elections. If they took me out on Iqama, the nation doesn't agree to it. Now they are debating on how much time should they keep me away from politics, said Sharif.

K-P to pay Rs15 billion interest on BRT loan

The former prime minister said that Pakistan should be run according to rules and regulations. He added the law should be supreme in the country.

Earlier, he along with other party leaders also visited the Green Line BRT Project.

Speaking to the media Sharif said, "This project is a gift for the people of Karachi." He added that law and order situation was worst in entire Sindh and his government controlled the situation.

"We will give more projects to Karachi," he vowed and directed the concerned officials to expedite the development work on federal government's funded projects.

Is Bus Rapid Transit project environment safe?: Peshawar High Court

Earlier, the former prime minister reached the old terminal and was greeted by Sindh Governor Mohammad Zubair, federal minister Abid Sher Ali and other leaders of the PML-N.

Sources privy to Sharif's visit told The Express Tribune that he has given task to his party leaders to start an election campaign and form possible alliances with like-minded parties.

"In today's meeting we have decided to organise rallies and public gatherings in various cities and towns. Nawaz Sharif will also address those public gatherings and a schedule of it will be issued soon," a PML N leader said.

He added that Sharif has also been invited to attend a seminar on democracy today (Friday) and will hold meetings with senior lawyers.

After the meeting, lawyers led by former president of Supreme Court Bar Yasin Malik will join PML-N.