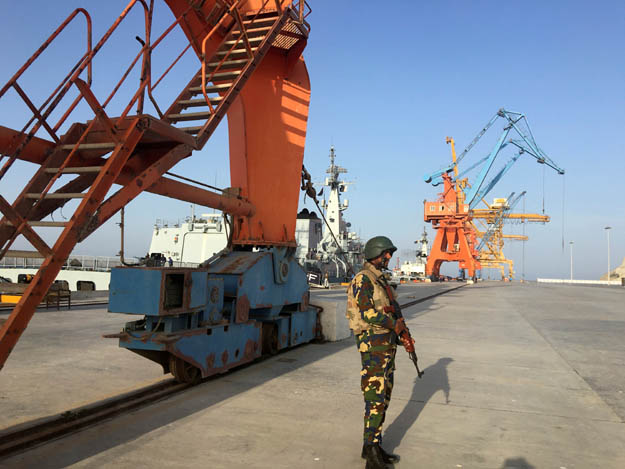 ---
GWADAR: Under the China-Pakistan Economic Corridor, Pakistan and China are striving for early completion of clean drinking water and electricity generation projects in Gwadar.

Drinking water shortage and lack of power generation have plagued Gwadar since long.

"The government has launched five schemes to ensure availability of clean water in Gwadar," said Gwadar Development Authority Director General Dr Sajjad Hussain Baloch on Sunday.

PM to visit Gwadar amid concerns over anti-CPEC propaganda

The issue of lack of clean drinking water would be resolved by mid of 2018, he added.

"With one sufficient rainfall, three dams - Akra Kaur, Sawad and Shadi Kaur - can provide up to 10 million gallons per day (MGD) of water to Gwadar for next five years," said Baloch.

He mentioned that pipeline from Sawad Dam to Gwadar city would bring 5.0 MGD, besides 2.5 MGD each from the Shadi Kaur Dam and the already connected Akra Dam.

He said due to drought at the moment, dams had dried up and to meet this challenge, work was in progress on a water desalination plant.

He said under a Water Purchase Agreement, the Chinese side would provide 0.2 MGD desalinated water, including supply of 10 MGD by mid-June.

Baloch said for the 5.0 MGD desalination plant, the government would fund 70 per cent, while 30 per cent cost would be covered by the provincial government.

In case of emergency, availability of water would be ensured from Mirani Dam, he added.

To meet the electricity needs of Gwadar, he said three plans were under way keeping in view heavy industrial activities in the future.

He said, "A 300-megawatt power plant under CPEC had been approved which would work on Independent Power Producer basis at a cost of Rs600 million to meet the demand of 40-45MW as compared to the available 14-15MW.

For the plant, Private Power and Infrastructure Board had already issued a Letter of Intent for its commissioning in 2018.

The GDA director general said the government had signed an agreement with Iran also for setting up a 100MW project on which 80 per cent work was done by the Iranian side and 20 per cent had yet to be carried out by Pakistan.

He said Iran was providing captive power to Gwadar, Turbat and Punjgur districts as Gwadar had not been connected with the national grid so far.

However, Prime Minister Shahid Khaqan Abbasi has approved connecting the missing link of Basima to Panjgur power line for connecting Gwadar with the national grid, he added.

Baloch said besides the industrial development of Gwadar, social sector was also being focused upon. He said the GDA, in collaboration with the Pakistan Army's health department, had set up a 50-bed hospital for providing services in paediatrics, gynaecology and minor surgeries.

Gwadar, Pakistan's new boomtown, needs a sustainability check

Effort are afoot to include the hospital under CPEC to upgrade it to a 300-bed facility and would also include a medical college and nursing school, he added.

In the first phase, China, under an agreement, would set up 150-bed hospital on 12,000 square metres and provide medical equipment also.

Published in The Express Tribune, January 29th, 2018.
COMMENTS
Comments are moderated and generally will be posted if they are on-topic and not abusive.
For more information, please see our Comments FAQ