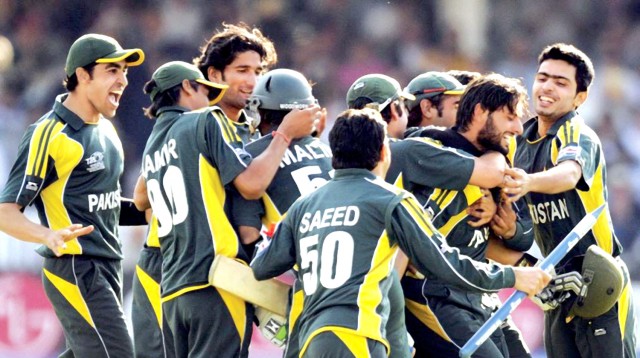 ---
LAHORE: Pakistan's all-rounder Twenty20 skipper Shahid Afridi was confirmed as captain for next month's Asia Cup and a following tour of England, uniting the team under one captain for all formats of the game.

The 30-year-old Afridi, who led Pakistan to a semi-final finish in the World Twenty20 this month, was seen as the natural, and possibly, the only remaining choice for all three forms of the game, given his ability to unify the players and the lack of senior players in the team.

"Afridi will lead Pakistan in one-day and Test cricket and is our best choice," said Pakistan Cricket Board (PCB) chairman Ijaz Butt at a press conference on Tuesday.

Pakistan will feature in the four-nation Asia Cup in Sri Lanka from June 15-24 before proceeding to a two-and-ahalf- month tour of England, where they play two Twenty20 matches and two Tests against Australia. They then play England in four Tests, five oneday and two Twenty20 matches in a tour which finishes late September.

Former captains' return on the cards

In a widely anticipated move, the PCB named a 35-man preliminary squad for both the tours, which included banned Younus Khan and Shoaib Malik, subject to their clearance from the arbitrator.

"We have promised to review the fines and bans on six of our top players, so the names of Younus and Malik will only be included in the final squad after a decision on their appeals," said PCB chairman Ijaz Butt, who had earlier assured a parliamentary committee on Monday that the bans and fines on the players will be reviewed "in the best interest of Pakistan cricket."

Following the disastrous tour of Australia earlier in the year, the PCB banned Yousuf and Younus indefinitely "over infighting in the team over captaincy", while Malik and Rana Naved-ul-Hasan were banned for one year each and heavily fined. Afridi and the Akmal brothers were also fined heavily and over breaches of discipline during the Australia tour.

Except for Yousuf, who retired in protest at the ban, all six players have appealed. A one-man arbitrator is dealing with the appeals, with the PCB on Monday promising a review of the penalties soon.

Leg-spinner Danish Kaneria was also included in the initial squad despite his involvement in a police investigation into betting in Essex. The 29-yearold Kaneria, along with Essex colleague Mervyn Westfield, were questioned on May 14 before being released on bail until September 15, pending further investigation but were free to play cricket at all levels.

Pace bowler Shoaib Akhtar was also included after he regained full fitness from a knee problem which kept him out of international cricket for 13 months.

PRELIMINARY SQUAD

Openers:

Salman Butt, Imran Farhat, Yasir Hameed, Khurram Manzoor, Shahzaib Hassan, Azhar Ali, Azeem Ghumman

Middle Order:

Younis Khan, Shoaib Malik, Umar Akmal, Faisal Iqbal, Fawad Alam, Hassan Raza, Asad Shafiq, Umar Amin, Aamir Sajjad, Muhammad Hafeez

All Rounders:

Shahid Afridi (Captain), Abdul Razzaq, Yasir Arafat

Fast Bowlers:

Umar Gul, Shoaib Akhtar, Muhammad Asif, Muhammad Amir, Muhammad Sami, Wahab Riaz, Muhammad Irfan, Tanveer Ahmed, Aizaz Cheema

Spinners:

Danish Kaneria, Abdul Rehman, Saeed Ajmal, Zulfiqar Babar

Wicker-Keepers:

Kamran Akmal, Zulqarnain Haider

Shoaib Malik

Another former captain and middle order batsman awaits review from the arbitrator who is reviewing all the bans and fines by the PCB. Newspapers have claimed that there is pressure from cricketing and political circles to bring back Pakistan's most popular groom.

Shoaib Akhter

The Rawalpindi Express - now known more for breaking down than his 100-milers - is looking for a way back in, especially after displaying form and fitness in domestic Pentangular tournament and the PCB assuring that he might be considered, provided he gets back in shape.

Younus Khan

The former captain's inclusion in the final squad - which desperately needs experienced middle order batsmen - is subject to a one-man arbitrator review of whether he deserved his life-ban or not. That decision is expected to be taken soon by the PCB.

Danish Kaneria

Jailed abroad (for a night) in England after he and fellow Essex county cricketer Mervyn Westfield caught the Essex police's eye for spot fixing allegations, Pakistan's highest wicket-taking spinner always seems to make a comeback whenever Test cricket beckons.

Published in the Express Tribune, May 26th, 2010.