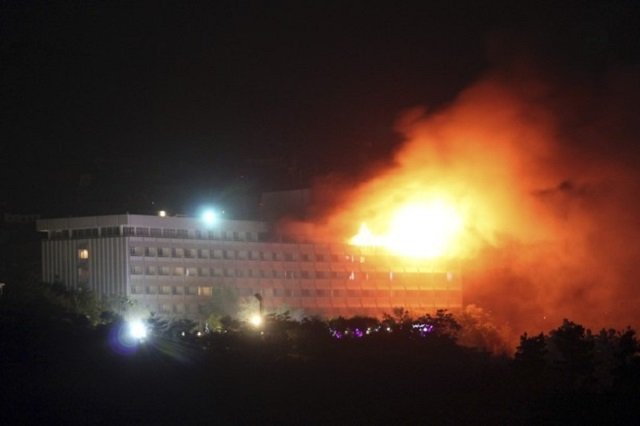 ---
KABUL: An attack on Kabul's Intercontinental Hotel that left at least six people dead, including one foreigner, has ended, the interior ministry said Sunday, more than 12 hours after gunmen stormed the building.

"All three attackers were killed," interior ministry spokesperson Najib Danish told Tolo News, adding 153 people have been rescued, including more than 40 foreigners.

Death toll from Kabul suicide attack rises to 13: officials

"Six are dead," an official with the Afghan spy agency told AFP, adding 100 hostages have been released.

Dramatic images broadcast on Afghanistan's Tolo News showed thick black smoke and flames billowing from the top floor of the hotel.

At least one person could be seen climbing over a top-floor balcony using bedsheets to escape, before loosing his grip and plunging to the ground.

US military member killed in Afghanistan

Four gunmen burst into the hotel on Saturday night, opening fire on guests and staff and taking dozens of people hostage, including foreigners.

There was no immediate claim of responsibility for the latest assault in the war-torn Afghan capital that followed a series of security warnings in recent days to avoid hotels and other locations frequented by foreigners.

Taliban claim deadly 12-hour attack on Kabul hotel

The Taliban on Sunday claimed responsibility for storming a luxury hotel in Kabul and killing at least six people in a 12-hour overnight siege, according to AFP.

Officials have said one foreigner was among the six killed in the attack.