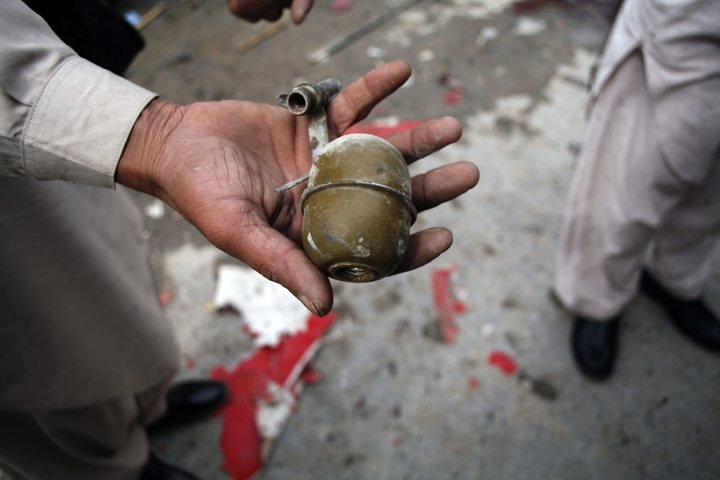 ---
KARACHI: An elderly man was killed while at least five others were wounded when unidentified men, apparently belonging to a gang based in Lyari, hurled a hand grenade at a cloth market in Kharadar on Thursday.

Upon receiving the information, the police and Rangers reached the site of the attack near Akhwan Masjid. The injured were shifted to Dr Ruth Pfau Civil Hospital, Karachi where one of them, 65-year-old Abdul Sattar, succumbed to his injuries. The other injured were identified as Muhammad Ismail, 39, Waqas, 30, Babu, 35, Abdul Aziz,70, and Usama, 25.

Police officials suspect the involvement of a gang based in Lyari behind the attack. According to the police, gangsters might have hurled the grenade after shopkeepers in the area refused to pay extortion.

Street crime: Operation failed to curb Karachi's biggest problem

Following the incident, a large number of shopkeepers and traders gathered on MA Jinnah Road and staged a protest. The protesters shouted slogans against Lyari gangs and police. The protest resulted in massive traffic jam on MA Jinnah Road. Later, senior police officials reached the site and dispersed the protesters after assuring them that the culprits behind the incident would soon be brought to book.

The incident on Thursday is the second major grenade attack in the city after September last year. At least seven people were wounded when motorcyclists hurled a hand grenade near the residence of Lyari kingpin Uzair Baloch in September, 2017.

Home Minister Sohail Anwar Siyal and Inspector-General of Police Allah Dino Khawaja took notice of the incident and sought a report from the City SSP.
COMMENTS (1)
Comments are moderated and generally will be posted if they are on-topic and not abusive.
For more information, please see our Comments FAQ