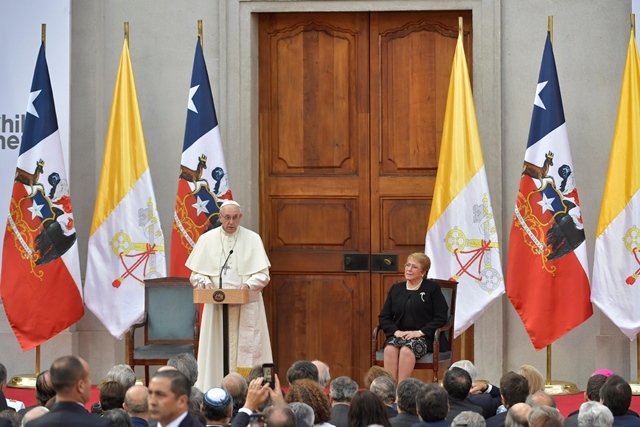 ---
SANTIAGO: Pope Francis on Tuesday expressed his "pain" and "shame" over child sexual abuse scandals that have rocked the church in Chile, as he made his first speech during a visit to the South American country.

"I cannot begin to express the pain and shame that I feel over the irreparable harm caused to children on the part of Church ministers," he said.

"We have to work hard to make sure this does not happen again," he added.

The US-based NGO Bishop Accountability last week said ahead of the visit that almost 80 Roman Catholic clergy members had been accused of sexually abusing children in Chile since 2000.

Activists from several countries meeting in Santiago on Monday launched a new global organization, Ending Clerical Abuse (ECA). The organization "seeks to stop child sexual abuse by the clergy," said one of its founders, Jose Andres Murillo.

Scandals overshadow pope's meetings in Chile

Francis, who arrived in Chile on Monday, also called for respect of the rights and culture of indigenous peoples during his address.

It is necessary to listen to native peoples, "often forgotten and whose rights and protected culture must be taken into account," said the pontiff in his address to political authorities.

He added that in the fight against climate change, indigenous peoples can offer a valuable perspective.

"We can learn from them that there is no true development in a population that turns its back on the (land) and everyone and everything around it," he said.

However, there was no specific mention of the Mapuche, with whom the pope is scheduled to meet Wednesday during a visit to Temuco, over 600 kilometers (370 miles) south of the capital Santiago.

Meanwhile, the pope also called for people to "listen" to migrants, whom he said "knock on the doors of this country in search of improvement, and in turn, with the strength and hope of wanting to build a better future for everyone."

Pope 'afraid' world is 'one accident' from nuclear war

At the presidential La Moneda Palace, the Argentine pope congratulated conservative president-elect Sebastian Pinera.

He also met with current Socialist President Michelle Bachelet, who has implemented reforms that go against the church's beliefs such as legalizing same-sex marriage and decriminalizing abortion.

He will later address members of the clergy at the Santiago Metropolitan Cathedral, in a speech set to be closely scrutinized.

Francis is the second pope to visit Chile, after John Paul II in April 1987.
COMMENTS
Comments are moderated and generally will be posted if they are on-topic and not abusive.
For more information, please see our Comments FAQ