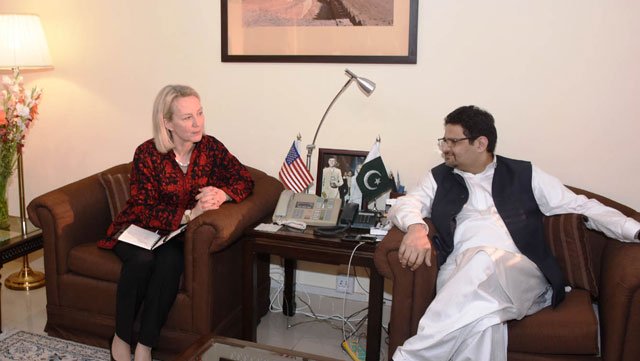 ---
ISLAMABAD: Adviser to the Prime Minister on Finance Dr Miftah Ismail informed US Acting Assistant Secretary of State for South and Central Asian Affairs, Ambassador Alice G Wells, about the measures the country was taking to fulfil the requirements of a global body working to curb terrorism financing and money laundering.

Wells said that the relationship between the two countries was important and the US would like to carry it forward, according to a handout of the finance ministry. She lauded the reforms that Pakistan has undertaken in different economic spheres and expressed the US support for similar reform efforts in the future, it added.

Her statement suggests that the US would like to engage with Islamabad contrary to the intentions recently expressed by US President Donald Trump.

"They discuss current state of ties between the two countries, with particular emphasis on the economic cooperation", the Ministry of Finance stated in the official handout.

During the meeting, the adviser informed the US delegation about the actions that Islamabad has taken two weeks ago against proscribed organisations, according to officials privy to meeting discussions.

Islamabad has stopped banned outfits from collecting donations aimed at averting a possible action that the Financial Action Task Force (FATF) may propose against the country during its meeting scheduled for next month.

The adviser did not raise the issue of outstanding $9 billion that Washington owes to Islamabad on account of the Coalition Support Fund, said the officials.

US general says 'not giving up' on Pakistan ties

Miftah Ismail said that bilateral visits were helpful in understanding each other's point of view, according to a statement issued by the finance ministry.

The adviser stated that the relations between the two countries have been affected by certain recent developments and it was important to remove the misperceptions, it added.

Adviser Finance also welcomed the planned visits of US business delegations and said that people to people contacts were an important part of a bilateral relationship. He expressed his support for business community's efforts aimed at furthering Pak-US economic ties.

Miftah Ismail also briefed the US acting assistant secretary of state about the state of the economy and the measures that his government was taking to correct macroeconomic imbalances on the external front.

Ismail said Pakistan has made visible headway in overcoming energy shortages that has given a boost to the country's productive sectors. This in turn is having a positive impact on the overall economic activities and GDP is growing steadily, he added.

US Ambassador David Hale, Finance Secretary Arif Ahmed Khan and other senior officials of the Ministry of Finance were present on the occasion.