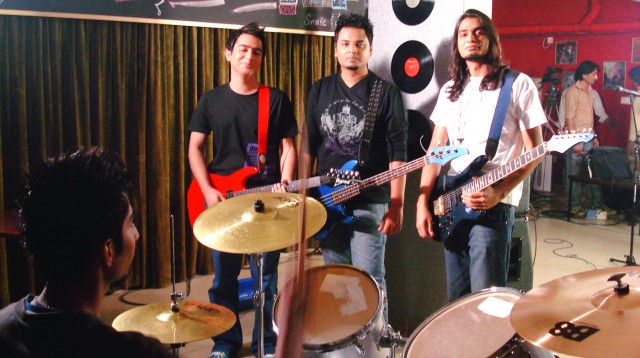 ---
KARACHI: Pakistan has a long history of musicians shedding the underground label and becoming mainstream acts: Entity Paradigm and Coven are just two examples.

But the difficulty of shedding the stereotypes of gigs in grungy cafes and bad cover songs is an uphill task. The Express Tribune spoke to some of Karachi's underground bands about the difficulties they have faced through this process. Adil Iqbal of ICU said, "No band thinks about or aims to be an underground band. It is just a label given to a band that hasn't entered the mainstream market yet. When we formed ICU, the only thing on our minds was that we want to make good music and bring a positive change in the industry."

"We are all like-minded individuals with a passion for music and fate made our paths cross, hence the band was formed. Fortunately now we have taken a step towards the mainstream market by launching our first music video 'Rebound'." Brain Soup's Shamraiz Awan told The Express Tribune, "Nobody wants to be an underground (band) since it is not easy to explain what underground is. I think that if someone has the funds to record their music in a professional studio and make a video, as well as advertise, then they would not be an underground (artist)."

Even though music has become an acceptable profession for several families, it is still generally frowned down upon by most parents who fear their children will not generate a stable income. Iqbal said that he and his band members have been fortunate because their families did not stop them from pursuing their passion.

"Keeping our society in view, I don't think that any family will be super thrilled if their son tells them that he wants to be a rock star. In our case, our families have been supportive, as long as we maintain a balance between practical things like studies and work, along with music," said Iqbal.

Awan faced some problems and said, "My dad never believed me but my mom believes in me. And I love her for that!" For Awan making a living is hard work. "I work six days a week and 10 hours a day. I support four sisters and my mother and 95 per cent of what I earn is for them. The promoters and 'big fishes' are uninterested in artistic work and more interested in making money. The scene is so down, I don't see a single person who is helpful."

However there is still hope and for ICU it is their hit song "Panch Chuhay" which Iqbal says is, " an original song by us, based on a childhood nursery rhyme." "We played it at the Interuniversity Battle of the Bands and we were named runners-up. When we first performed it the crowd went wild, and even though it's a very unconventional song, we still get lots of requests for it on our gigs and live TV and radio shows." Awan says, "Every song we play makes a difference; music is not a competition that you have to win. It is a method of communication between you and the listener, every single note I play is for someone who keeps me going."

He also plans to pursue music as part of his education. "I want to earn my Bachelors degree in music and want to be a certified musician, composer, song writer and guitarist."

Published in the Express Tribune, May 26th, 2010.