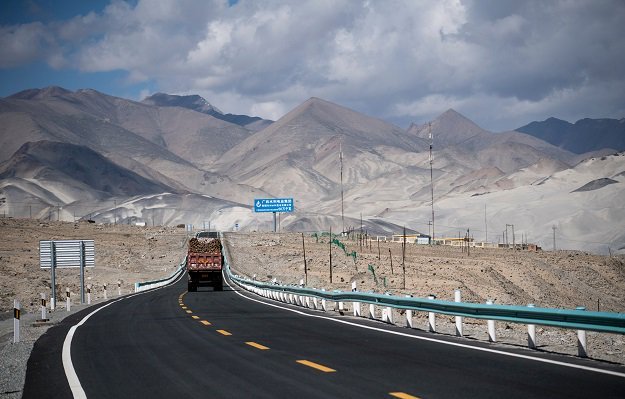 ---
ISLAMABAD: Issues like environment and poverty are closely linked with multiple and multi-dimensional aspects impacting the overall rationale of a developing economy.

In Pakistan, poverty is high and people have less sustainable opportunities. Over 58% people are food insecure and it is on the rise.

Similarly, the country loses Rs365 billion eacb year due to environmental degradation issues rarely taken up by governments.

Energy crisis persists, incurring huge losses to national GDP (ie $2-4 billion along with other social aspects). The country has lost about $18 billion due to floods from 2010-2015. Water scarcity is a new threat, as per capita availability has gone down to 1,000 cubic meter per square.

CPEC projects set to enter next stage of execution

In addition, Pakistan is still engaged in the war on terror, which has broken the socio-economic fabric of the country. Local investment has gone down and domestic industry is not performing, affecting the trade balance. War on terror has also heavily hampered foreign direct investment.

The need for CPEC

In this backdrop, the China-Pakistan Economic Corridor (CPEC) is a ray of hope for both the people and ruling elite of Pakistan. It is a multi-dimensional investment, which comprises interest-free loans, soft loans, and export credit. Despite its potential and benefits, some people criticise CPEC on different grounds.  The criticism at the domestic level is built on the basis of lack of information.

A few days ago, the government of Pakistan and China signed and published the Long Term Plan for CPEC, which helped mitigate criticism regarding non-availability of information. Its availability in public domain enhanced the access of the wider audience at the international and local levels.

Environmental concerns

A major concern is the possible impact on environment and climate change. It is being argued that it will introduce a new set of problems. Before discussing CPEC, there is a need to understand the relation between environment and poverty. It has been well researched that poverty has a positive relation with environmental degradation and climate change. The poor try to consume whatever is available for their survival, so natural resources become the first victim.

People living in the neighbourhood of forests start using the natural resources for their livelihoods leading to deforestation, which is one of the major cause of environmental degradation and climate change. Deforestation also leads to soil erosion impacting watersheds and water shed management. Pakistan has lost a huge forest cover due to poverty. Similarly, poor overuse the available resources like land in order to get short-term benefits. In the worst-case scenario, they migrate to cities in search of livelihood opportunities.

Influx of people in cities also creates problems on multiple fronts and environment is one of the most impacted areas. In order to sustain, the government is to expand the infrastructure like water and sanitation, roads, etc. Expansion of roads mostly results in tree cutting, reduction in green areas, etc. It also increases the number of vehicles and pollution in cities.

One way to tackle these problems is the creation of new economic centres across the country.  Analysis of Long Term Plans shows that CPEC-related investments could resolve the issue of poverty and climate change if executed in its true spirit. It is a very comprehensive investment, which can help tackle almost all issues of the country.

Detailed analysis of the Long Term Plan (LTP) shows that climate change and sustainable development have been embodied. The plan will be executed step by step. In the short term, most pressing issues like energy, and infrastructure development will be tackled. Coal will be used to overcome the energy crisis. It is in Pakistan's benefit to produce cheap energy for enhancing industrial competitiveness.

Unfortunately, coal use has attracted a lot of criticism due to its environmental impact. Analysis shows that the share of coal in Pakistan's energy mix is very low and it will remain low despite the investment in new coal fired power plants.  It is pertinent to note that most of the developed and developing countries are still quite ahead of Pakistan on this front like USA, Germany, India, Poland, etc. Furthermore, for Pakistan, it is important to overcome the problem of energy crisis and invest in renewable energy.

Pakistan and China are aware of this fact and decided to offset the impact by putting more focus on renewable energy. It is explicitly explained in the LTP that renewable energy sector will be the major area of investment in future. Both governments are already investing in renewable energy projects like Quaid-e-Azam Solar Park in Punjab and windmills in Sindh. New projects are also in the pipeline. Most important thing to note is that China will also help Pakistan excel in the production of renewable energy related technologies.

Water and agriculture

China has also shown interest to invest in the water and hydropower sector. Water related investment would help Pakistan on multiple fronts. Pakistan will be able to store water for lean periods as Pakistan receives 82-84% of water in the summer and rest of the year it has to bear the brunt of low water availability. Agriculture sector is being impacted and farmers look for groundwater extraction. Even Pakistan is not able to sustain minimum required water flows to the sea. Water scarcity will be overcome by investing in water through dam building and better water management. Cheap hydro-energy would be another benefit, which will enhance Pakistan's competitiveness in international market besides reducing the carbon footprint.

However, major beneficiaries would be the farming community, mangroves, etc. Farming community will have reliable and adequate supply of water.

Four new schemes to be part of CPEC

Development of roads, railways and airways infrastructure will improve connectivity, which is supposed to be fundamental for economic growth, development and poverty alleviation along with other factors. Both Pakistan and China have strong resolve to develop infrastructure. Pakistan has already conducted detailed studies to minimise the environmental impact because of bigger projects. Fibre optic will also be laid down to improve digital connectivity and surveillance.

Special Economic Zones (SEZs) will help create new economic opportunities across the country. These zones will boost local economies by utilising local resources and providing employment opportunities to local people. Establishment of SEZs throughout the country would ensure equal opportunity to all areas in Pakistan. It will introduce a new set of economic opportunities in less privileged areas like G-B, Balochistan, etc.  Creation of SEZs will help reduce migration towards the cities, which in return would help mitigate the problem of pollution in cities on a sustainable basis.

A study conducted by SDPI in 2015 estimated that CPEC would add almost 2 per cent to national GDP till 2018, which means there will be growth on the economic front and more jobs on social front.

All indicators of sustainable development, including economic, social and environmental will be given due importance in its implementation. LTP has mentioned it and stressed to make CPEC sustainable development oriented and consider climate change as a vital element. Investments in the areas of renewable energy, eco-tourism, climate resilient agriculture, and water sector clearly spell the priority of both governments for sustainable development.

The writer is the Head of Centre for Future Policy and Head of Research Coordination Unit, Sustainable Development Policy Institute

Published in The Express Tribune, January 15th, 2018.

Like Business on Facebook, follow @TribuneBiz on Twitter to stay informed and join in the conversation.
COMMENTS (5)
Comments are moderated and generally will be posted if they are on-topic and not abusive.
For more information, please see our Comments FAQ