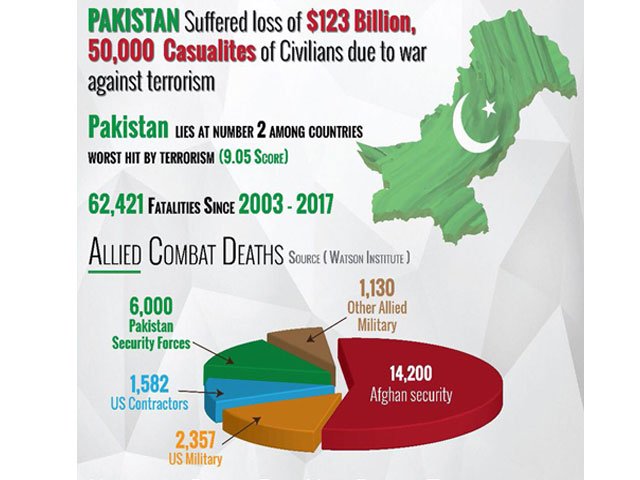 ---
Pakistan lost over 50,000 civilians in the war against terrorism since 2003, according to government figures.


#Pakistan has rendered countless sacrifices in War against Terrorism and has always taken indiscriminate action against any form of extremism.
Our commitment for lasting peace is unequivocal.
#PakistanFirst 🇵🇰 pic.twitter.com/kPBgAKpzdX

— Government of Pakistan (@GovtofPakistan) January 2, 2018


The Global Terrorism Index, which profiles data on terrorism from across the world, had ranked Pakistan second among the countries most affected by terrorism.

A breakdown of the figures collected by Watson Institute shows that Pakistan lost 6,000 security personnel in the fight against terrorism, as compared to 2,357 US soldiers.

In 2013, 5, 379 Pakistanis were martyred in terrorist attacks followed by 5,496 in 2014; 3,682 in 2015; 1,830 in 2016 and 924 in 2017.

Last month, Pakistan's Ambassador to the US Aizaz Chaudhary issued a similar fact sheet detailing Pakistan's counter-terrorism efforts.


Embassy of Pakistan launches "A Factsheet on Pakistan's CT Effort" in commemoration of the innocent martyrs of Army Public School (APS) Peshawar pic.twitter.com/v0tcVQKXad

— Pakistan Embassy US (@PakinUSA) December 23, 2017


In his first tweet of the year, Trump tweeted that the US 'foolishly' gave aid to Pakistan over the course of 15 years but Islamabad remained deceitful by providing safe havens to 'terrorists' from Afghanistan.

However, despite the onslaught, the country's civil and military leadership on Tuesday showed an unprecedented restraint, saying they would not act in haste.

The conflict that began in October 2001 as a hunt for the 9/11 attackers has turned into a vexed effort to keep Afghanistan's divided and corruption-hindered democracy alive amid a brutal Taliban insurgency.
COMMENTS (2)
Comments are moderated and generally will be posted if they are on-topic and not abusive.
For more information, please see our Comments FAQ