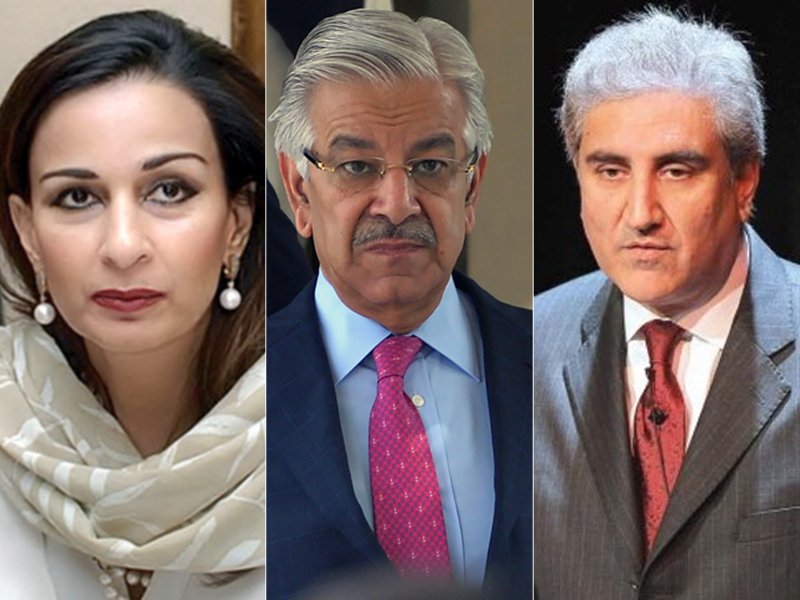 ---
The rocky Pakistan-US relations sank to a new low with the advent of New Year with President Donald Trump accusing Islamabad of 'lies and deceit', drawing a strong protest from the government.

In his first tweets of 2018, Trump said Pakistan gave the US nothing but 'lies and deceit' and that the country provided safe havens to Afghan 'terrorists'.

Foreign Minister Khawaja Asif hit back to the outright accusation, saying: "the United States should hold its own people accountable for its failures in Afghanistan."

Pakistan summons US ambassador over Trump tweet, registers protest
He also spoke to a private TV channel and shared his views on the on-going war against terrorism. "We have already said 'no more' to America, so Trump's 'no more' has no importance."

Referring to Trump's claim that US gave Pakistan $33 billion in aid, Asif said: "We are ready to give all account for every single penny to America in public."

Separately, Defence Minister Khurram Dastagir said that Pakistan had cooperated enough with the US in the war against terrorism.

However, he made abundantly clear that the Afghanistan war would not be fought from Pakistan.

Hours later, US Ambassador David Hale was summoned to the Foreign Ministry. Sources said Foreign Secretary Tehmina Janjua lodged strong protest over Trump's tweet and sought an explanation from the ambassador.

Opposition politicians have also noted with concern further deterioration of the Pakistan-US relations, which have already been strained since Trump took over the office a year ago.

Senior Pakistan Peoples Party (PPP) leader Senator Sherry Rehman stressed the need for Pakistan to have a balanced stance and not be too aggressive in replying to the US.

She said the reason why Washington is being reactive is due to gaps in Pakistan's foreign policy. "The gaps should be filled. The world can see the lack of governance and is taking advantage of how Pakistan has not responded."

Rehman, also a former Pakistani ambassador to the US, said the Coalition Support Fund (CSF) has never been counted as aid in any accounting in Pakistan, nor will it be seen as part of assistance.

Pakistan Tehreek-e-Insaf (PTI) leader and former foreign minister Shah Mahmood Qureshi said that matters of foreign policy must not be delivered through social media but should be debated in a proper setting.

US president raps Pakistan in first tweet of 2018
Qureshi said challenges facing Pakistan are not being addressed adequately. "Pakistan has to move forward taking into account its own interests, irrespective of whether it gets US aid or not," he said.

Omar Waraich, the Amnesty International Deputy Director for South Asia, cautioned the US that there were only two supply routes into Afghanistan, which go through Pakistan and Iran.

However, he questioned how Saudi Arabia, a traditional ally of Pakistan, could see the US pushing Pakistan into the sphere of influence of Iran, Russia and China.
COMMENTS (2)
Comments are moderated and generally will be posted if they are on-topic and not abusive.
For more information, please see our Comments FAQ