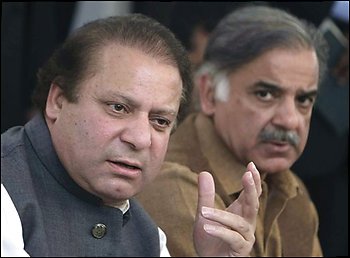 ---
LAHORE: Commenting on the Sharif brothers' ongoing visit to Saudi Arabia, PPP leader Aitzaz Ahsan has said that Riyadh has no interest in anyone's affairs in Pakistan, while PTI spokesman Fawad Chaudhry thinks the friendly country will not stand by a 'corrupt' family.

Ahsan said on Monday that Punjab Chief Minister Shehbaz Sharif had tried to give an impression that he was very close to the Saudi government by flying to the country on the aircraft of former army chief Raheel Sharif who is heading a military coalition based there.

Talking to media-persons outside the Lahore High Court, the leader of opposition in Senate said Shehbaz had not been invited by the Saudi leadership, but he had gone there himself to give an impression that he enjoyed good relations with the hosts. He said the Saudi government had no interest in anyone else's matters as it was already facing several problems.

Ahsan said Shehbaz and former interior minister Chaudhary Nisar had good relations with the former army chief when the issue of Dawn Leaks arose, while former PM Nawaz Sharif did not have good relations with the army at that time. However, he said the former prime minister and his daughter Maryam Nawaz had stronger support among the voters as compared to Shehbaz.

He said Shehbaz was making efforts to become prime minister, but the Pakistan Peoples Party (PPP) would perform well under the leadership of Bilawal Bhutto Zardari and its future was bright.

Replying to a question, he said the PPP had shared grief with the Pakistan Awami Tehreek (PAT) chief over the killing of his party's workers in the Model Town incident but had not formed any political or electoral alliance with the party.

Meanwhile, Pakistan Tehreek-e-Insaf spokesman Fawad Chaudhry said at a press conference that the people of Pakistan would not accept any deal to provide relief to the Sharif brothers "who have a history of striking such bargains".

Chaudhry claimed that there was a strong link between the Sharif brothers' visit to Saudi Arabia and their offshore company Hill Metal. He alleged that the deposed premier had robbed public money during the past five years and was the "chief of corrupt politicians".

He asserted that this time the Saudi government would not stand by a corrupt family but would maintain relations with the Pakistani state. He wondered why there was a buzz in India about a deal during the Sharif brothers' visit to Saudi Arabia. He alleged that former finance minister Ishaq Dar was involved with Sharif in laundering money through offshore companies.

Crticising Shehbaz, he said, "A country does not remain sovereign if its rulers travel abroad on foreign aircraft."

Chaudhry claimed that PTI leader Jahangir Tareen had purchased an aircraft for his party and had faced criticism, but no one was raising questions about Shehbaz having traveled to Saudi Arabia on an aircraft sent by the kingdom.

"We did not know whether the aircraft which was sent from Saudi Arabia was halal," he said.

Chaudhry claimed that details about the Dubai-based Capital FZE had not been revealed yet. He said the company was originally registered in the name of Sharif.

He also criticised the government for increasing petroleum prices. "Everywhere in the world citizens are celebrating New Year but in Pakistan, Finance Adviser Miftah Ismail dropped a petrol bomb on the nation by increasing the prices," he said.

The PTI leader said the superior judiciary and investigation agencies played a remarkable role during the past year and launched a crackdown against corrupt mafias.

Published in The Express Tribune, January 1st, 2018.


COMMENTS
Comments are moderated and generally will be posted if they are on-topic and not abusive.
For more information, please see our Comments FAQ