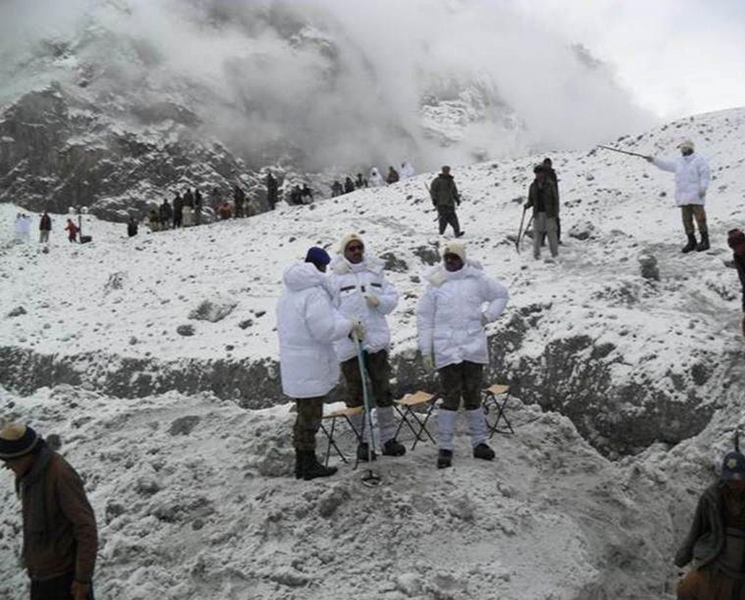 ---
Funeral for three of the five Pakistan Army personnel was held on Monday who lost their lives when an avalanche hit their army base in world's highest battleground Siachen on December 30, 2017.

According to Express News, funeral prayers for the martyred were offered on Gilgit helipad. The three belonged to Gilgit-Baltistan areas of Hunza and Ghizer.

Five army personnel missing after avalanche hits their base in Siachen



Forces Commander Northern Area Major General Saqib Mehmood also attended the funeral along with top civil-military leadership.

At least five army personnel went missing last Saturday after the avalanche hit their base. The Pakistan Army later also started a rescue operation in the area with the help of locals.

Avalanches and landslides are common at the Siachen Glacier during the winter season and temperatures there can drop as low as minus 60-degree Celsius.

An estimated 8,000 troops have died on the glacier since 1984, almost all of them from avalanches, landslides, frostbite, altitude sickness or heart failure rather than combat.

At least 135 people, including 124 servicemen and 11 civilians, went missing in 2012 after an avalanche hit them at Gayari sector near Siachen Glacier.

Last year, Pakistan observed Gayari tragedy's fifth anniversary and paid homage to the soldiers of the Pakistan Army, along with civilians who embraced martyrdom in a fatal avalanche in 2012.

Five years on, Pakistan remembers Gayari tragedy

One hundred and thirty five people, including 124 soldiers and 11 civilians were trapped under the snow at an altitude of about 13000 feet, near the Siachen Glacier region after an avalanche hit an army base in Gayari sector.
COMMENTS (1)
Comments are moderated and generally will be posted if they are on-topic and not abusive.
For more information, please see our Comments FAQ