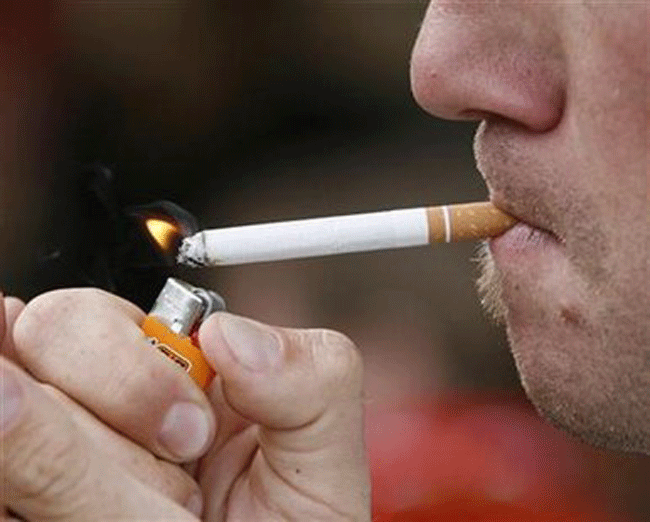 ---
ISLAMABAD: The health ministry on Friday directed cigarette companies to include a new warning on packets apart from increasing the size of the warnings.

Notifications in this regard were issued on Friday.

According to the notifications, the government mandated the changes by altering a statutory regulatory order (SRO) and issuing a fresh SRO to amend the cigarette printing and warning rules.

Curiously, both notifications were dated December 19 but were only released on Friday.

The first of the notifications amended SRO 23 (KE)/2015 issued on January 29, 2015.

K-P health dept seeks Rs3b for improving services

In it, it introduced new pictorial warnings which would be included on cigarette packets. These warnings — with a warning in Urdu on the front and in English on the back — contain a gory picture of complications developing in the throat.

The pictorial warnings, which will be run for a year from June 1, 2018, will cover 50 per cent of each side of the packet.

The second notification, SRO (KE)/2017 — issued under section 8 of the Cigarettes (printing of Warning) Ordinance 1979 — amended the Cigarettes (Printing of Warning) Rules 2009.

The amendment would see the size of the pictorial health warning on a cigarette packet enhanced to cover 50 per cent of the packet on the front and back sides of the packet.

The regulations would go into effect from June 1, 2018.

Since the government had identified the pictorial warning which will be posted on cigarette packets for a year, it noted that once that period ends, a new size of the warning will be implemented.

The regulation noted that the size of the health warning would be enhanced to cover 60 per cent of each side of a cigarette packet — front and back — from June 1, 2019. 

Published in The Express Tribune, December 30th, 2017.
COMMENTS
Comments are moderated and generally will be posted if they are on-topic and not abusive.
For more information, please see our Comments FAQ