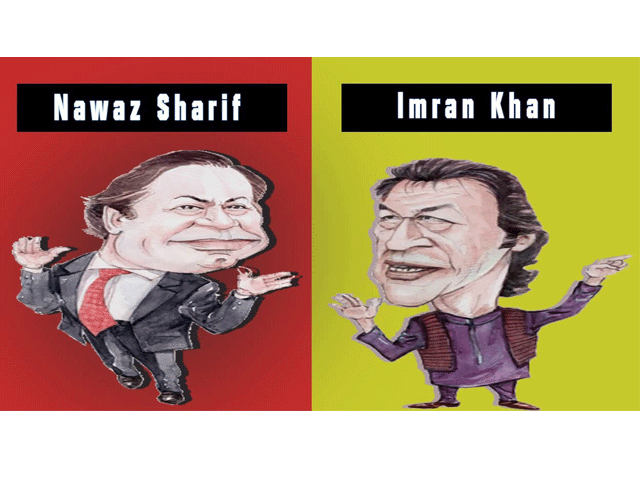 ---
KARACHI: Almost no one raised their hands when columnist Mosharraf Zaidi, during an informal talk with staffers of a media organisation last year, asked them if they supported the Pakistan Tehreek-e-Insaf (PTI). Zaidi, surprised, then asked who supported the PTI in 2013. Interestingly, all hands were raised.

PTI chief Imran Khan, from being a sole parliamentarian in 2002, became the chief of the second largest party in the 2013 general elections. He targeted the segment of society which was disillusioned with the country's political class, hypocrisy, nepotism and corruption.

Four years down the line, however, the PTI, particularly its chairman, has shown that despite its slogan of change, it is no different; all political parties are the same. Rather than introspection within, PTI leaders have resorted to blame game and trolling.

The 'khooni' (bloody) liberals have since become critical of the party they once thought will make 'Naya Pakistan'.

Following are six instances from 2017 when PTI proved it is just another player in Pakistan's power politics: 'tabdeeli' (change) is not their priority; power is.

Bromance for Jahangir Tareen

Welcoming Nawaz Sharif's disqualification from office over non-declared salary, Imran urged the PML-N to disassociate itself from the ousted premier, and that a "disgraced, disqualified PM" should neither be elected as chief of a party nor should he chair party meetings.

However, when the apex court disqualified PTI general secretary Jahangir Tareen from holding public office for concealing assets, Imran despite saying on record that he would throw out from the party anyone found guilty of corruption; supported Tareen, asserting he would remain "right next to him" in his struggle. Tareen is also seen in party meetings following his disqualification.


If Jahangir Tareen is found guilty, he will be kicked out of the party: Imran Khan on 18-11-2017 in @TTPwMAK pic.twitter.com/AezP1FSnUO

— Mansoor Ali Khan (@_Mansoor_Ali) December 15, 2017
JKT you have shown unswerving commitment to the cause of Naya Pakistan & worked with utmost dedication for our cause. For me it doesn't matter whether you hold a position in PTI or are in Parliament, you will always remain right next to me as we build Naya Pakistan InshaAllah.

— Imran Khan (@ImranKhanPTI) December 16, 2017


A "dishonest" person can remain in PTI as long as his jet aircraft is at its disposal.

Dynastic politics with a 'twist'

Everyone thought Imran was against nepotism and dynastic politics. This was not only because his sons - Qasim and Sulaiman - have shown no interest in politics so far (and live in London with their mother Jemima Goldsmith), the PTI leader has time and again criticised the Bhuttos, Sharifs, and Chaudhrys, among other hereditary rulers for "looting the country".

At a rally in Quetta earlier this year, he likened the political dynasties of the country with The East India Company.

"We are here to do away with family politics," he once said in 2013.


IK at election rally in 2012 speaking (& rightly so) against dynastic politics: "Yeh Nahi Hoga Kay Asif Zardari kay baad Bilawal Bhutto tayyar ho jaye"

Except of course in the case of Ali Tareen and Jahangir Tareen pic.twitter.com/PbdU21DCJU

— omar r quraishi (@omar_quraishi) December 28, 2017


Yet, after Jahangir Tareen was de-notified from his NA-154 seat from Lodhran, Punjab, the party, in a blatant display of favouritism, nominated his son, Ali Tareen for the coveted constituency.

https://twitter.com/JKTFanClub/status/946027538798841856

Imran defended the decision, saying Ali "was the best candidate available" in a district with  a population of at least 1.7 million people.

https://twitter.com/OTEFANS/status/946448345333141504

Since Ali Tareen was nominated on the "desire of party workers", it is not nepotism. Good dynasty.

Stance on Article 62 1 (F)

Both Nawaz and Tareen were disqualified on the basis of Article 62 1 (F) of the Constitution, which contemplates on a person being sadiq and ameen (honest and truthful).

Imran has had varying views on the Article on different occasions. While he called for an amendment in his initial years as a politician because "you literally have to be an angel to pass that 62 and 63", he welcomed the former PM's removal.

However, after Tareen's disqualification, he has again called for revisiting the constitutional provision.


IK's stance on article 62,63 is not a principled stance... it keeps changing as it is based on the cases against himself, his opponents and his party leaders... pic.twitter.com/CnnQwX1OWT

— Shahzeb Khanzada (@shazbkhanzdaGEO) December 19, 2017


He's infamously referred to as U-turn Khan. Now you know why.

 'Jangla' bus service

The PTI chairman has often derided his political rivals, the Sharifs, for introducing the Metro alias 'jangla' bus service in Lahore, Multan and Islamabad, saying his party was instead focusing on health and education in Khyber-Pakhtunkhwa.

Yet, his party has initiated a similar mega project in the K-P capital, Peshawar Bus Rapid Transit (BRT). It is said that the project will be completed in six months as elections are close.

It seems K-P, regardless of over 50 deaths in the recent dengue outbreak in the province, doesn't need any further health facilities. Peshawar, the Paris of Pakistan.

A tale of two Ayeshas

When PTI member Ayesha Gulalai accused the chairman of sending her "lewd" text messages, instead of providing evidence that she was lying, the party's women members brought to light the case of Ayesha Ahad, a woman who claims to be PML-N leader Hamza Shahbaz's ex-wife. At a press conference with her in Lahore, Yasmin Rashid and Firdous Ashiq Awan urged authorities to provide "justice" to Ahad. They also alleged the PML-N of supporting the disgruntled Gulalai.

[/fbvideo]

Tabdeeli is here; after PML-N and PPP, PTI reverts to revenge politics of the 90s.

Halal foreign loans

The PTI has censured successive governments for taking foreign loans at the cost our 'sovereignty'  with Imran often saying that because of external loans our "policies are dictated" and we "lose our freedom".

This, however, apparently does not apply to K-P, where his party is in power as several of the province's projects (including BRT) are sponsored and funded by aid agencies such as the World Bank, Asian Development Bank, UKAID and DFID, among others.

After all, some loans are halal. Others haram.



"Everyone thinks of changing the world, but no one thinks of changing himself."

― Leo Tolstoy