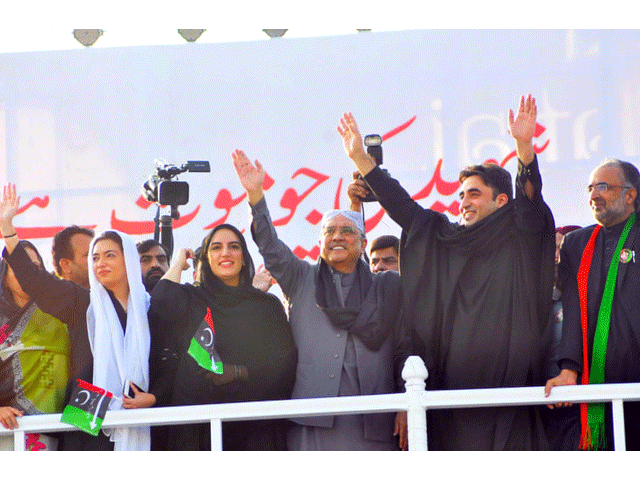 ---
HYDERABAD: Dubbing the current government 'a killer regime', the Pakistan People Party (PPP) Chairman Bilawal Bhutto Zardari has said the assassins of his mother, Benazir Bhutto, are still spilling blood of innocent people with impunity but the rulers are too afraid even to name them.

"My mother sacrificed her life in the struggle to restore democracy but the present rulers are debilitating the very system which she stood for," Bilawal said on Wednesday.

He was addressing thousands of supporters who gathered from all parts of Pakistan in Garhi Khuda Bux to commemorate Benazir's tenth death anniversary.  Benazir, a former prime minister and the PPP chairperson, was killed on December 27, 2007 in Rawalpindi in a bomb and gun attack.

PPP loses the Bhutto touch

Earlier in an interview, the PPP's youthful leader had accused the former military ruler Pervez Musharraf of killing his mother, and he also concluded his speech with the slogan of 'Qatil qatil Musharraf qatil' [Musharraf is murderer].

But, in his speech, Bilawal, not only targeted Musharraf, his chief political rivals, the ruling Pakistan Muslim League-Nawaz (PML-N) and the Pakistan Tehreek-e-Insaf (PTI) but also the judiciary.

Reading out the charge-sheet against the PML-N government, Bilawal said there was a conspiracy to end freedom of all institutions and small provinces were being distanced from the Centre.

"The country is trapped in loans. Economy is flailing. No one listens to the farmers' cries and they aren't paid right price for the crops. Farmers are burning the crops and they are being subjected to economic murder," he said.

The PPP's chairman also assailed the PML-N government for the volatile eastern and western borders, alleged diplomatic isolation and losing leadership of the Muslim world.

Contending that Sharif brothers were reaping what they sowed, he recalled how his mother was dragged to the courts by the Sharifs who were now facing a similar ordeal.

"By giving your [Benazir's] and your father's [Zulfikar Ali Bhutto's] example of [judicial trials] they [Sharifs] are trying to prove themselves as innocent," he said, addressing his mother.

Bilawal also saw Sharif brothers being hoisted by their own petard because they allegedly used religion for politics against the PPP and Benazir Bhutto. "Those who gave fatwas [religious edicts] that voting for PPP is haram and that the act will also break nikkah are now themselves in the grip of fatwas."

He lamented that judiciary for whose empowerment his mother 'led' a political struggle had let the PPP, its leadership and people of Pakistan down. "We didn't get justice from that judiciary. You [Benazir], Zulfikar Bhutto, me, victims of terrorism, missing persons, rape victims, didn't get justice."

Earlier, the PPP Co-Chairman Asif Ali Zardari blamed former PM Nawaz Sharif for trying to strike a deal with the establishment for his safe exit from the corruption cases he is facing.

"Today again you are trying to get the NRO [National Reconciliation Ordinance]. But this time if someone gave you the NRO, we would reject it and oppose it," he said, in a reference to the controversial ordinance which paved way for cessation of cases against political parties during Musharraf's era.

Bilawal slams govt's use of force on protesting teachers in Karachi

He said the PPP will not accept what he described as the dual system of justice. "What is this joke that we languished in jails for 12-12 years and faced the cases for 25-25 years but you [Sharif] get freed from jail in 12 months and reach your luxurious Saroor Palace [in Saudi Arabia]."

Zardari reiterated that PML-N always stabbed the PPP in the back and announced that he would never let his party fall in the PML-N's trap of reconciliation again. "We will not go with you in the elections. We will contest against all the parties and we will, God willing, defeat them all and win the elections."

Bewailing that he was not allowed to lead the PPP's election campaign in 2013, he assured the party's supporters of victory in 2018 when he will be campaigning along his children. "The PPP and its leadership have been confronting conspiracies for decades," he said, adding that the PTI chief Imran Khan is part of that conspiracy.

Zardari said many leaders like him will come and go in history but the name of Bhutto and his daughter will stick. "I haven't seen a human like Benazir. I haven't even seen even a man as brave as Benazir."
COMMENTS (1)
Comments are moderated and generally will be posted if they are on-topic and not abusive.
For more information, please see our Comments FAQ