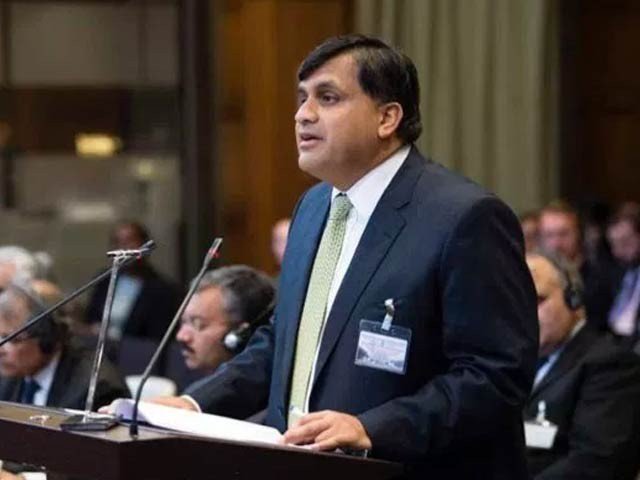 ---
Foreign Office spokesperson Dr Muhammad Faisal said on Monday  that convicted Indian spy Kulbhushan Jadhav is the face of Indian terrorism.

Speaking at a press briefing after Jadhav's meeting with his family Faisal said this development is a positive gesture from Pakistan's side and the country has nothing to hide.

The request from Jadhav's family was granted purely on humanitarian grounds. It was considered and granted. "This was a positive gesture from Pakistan's side and a diplomat was present throughout the meeting," he added.

The spokesperson noted that the Indian government had not provided an explanation as to how an Indian passport was used with a fake name.

"India was provided with a copy of Jadhav's passport. Passport bears a Muslim name known as Hussain Mubarak Patel," he explained.

Faisal maintained that Indian media was allowed to be part of this meeting however, there was no response. "This meeting was not done to win at the International Court of Justice (ICJ), rather it was just to show that Pakistan thoroughly believes in basic human rights."

Wife, mother meet Jadhav in Islamabad

Pakistan offered that the wife may visit and later a request was made from India to make Jadhav the mother meet as well.

"Commander Jadhav's wife wanted to speak to the media. We had formally proposed this to India," he said.

"To reiterate let me be very clear that Pakistan permitted request on humanitarian grounds. Islam advocates peace," he added.

The spokesperson said the family was not allowed to meet Jadhav physically as security is paramount. "There was a partition between the two parties in the meeting due to security reasons."

On Jadhav's medical condition, the FO spokesperson said that detailed reports vividly show that he is in perfect health.




Responding to a question, Faisal said that this will not be the last time that the family is meeting Jadhav, they will be given permission later on too.

"The wife and mother thanked Pakistan, the Foreign Office, me and my team. They were satisfied with the meeting," he added.

He said that this is not providing consular access but only on a  categorical basis. "It is always difficult to conduct negotiations on a state level."
COMMENTS (2)
Comments are moderated and generally will be posted if they are on-topic and not abusive.
For more information, please see our Comments FAQ