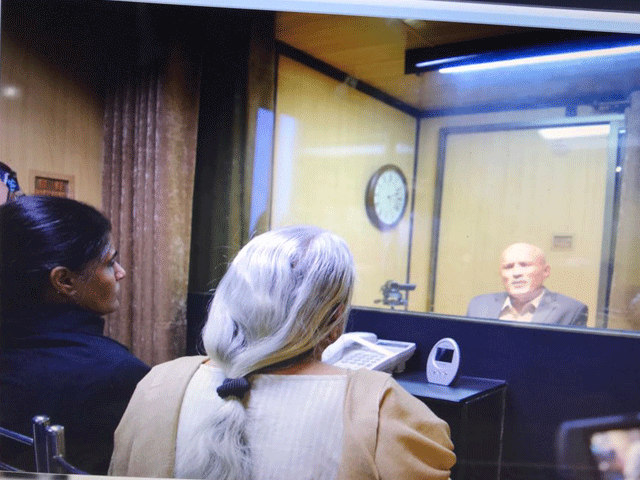 ---
ISLAMABAD: The mother and wife of Kulbhushan Jadhav, who is on death row, met the Indian spy in the federal capital on Monday after Pakistan granted permission on humanitarian grounds, said Express News.




The meeting lasted for about 40 minutes and was held at the Ministry of Foreign Affairs today where elaborate security arrangements were put in place.

Jadhav 'not to be hanged immediately'

Jadhav's mother Avanti Jadhav and wife Chetankul Jadhav were accompanied by India's Deputy High Commissioner JP Singh during their meeting. Dr Fareha Bugti represented Pakistan in the meeting.

The mother and wife of Commander Jadhav sitting comfortably in the Ministry of Foreign Affairs pakistan . We honour our commitments pic.twitter.com/hILiMyp7Zl

— Dr Mohammad Faisal (@ForeignOfficePk) December 25, 2017

The duo arrived from India at the Benazir Bhutto International Airport via flight EK-612 earlier today and are expected to catch a flight back to India later today.

In a statement, the Foreign Office said Pakistan permitted the convicted Indian spy to meet his family members on humanitarian grounds on the day of Quaid-e-Azam Muhammad Ali Jinnah' birth.

Pakistan permits the meeting of wife and mother of Commander Jadhav with him, as a humanitarian gesture, on the birthday of the Father of the nation, Quaid e Azam Muhammad Ali Jinnah.

— Dr Mohammad Faisal (@ForeignOfficePk) December 25, 2017

Consular access to Jadhav 

The spokesperson for the FO Dr Mohammad Faisal, on Monday, also clarified that Pakistan has not given any consular access to Jadhav.

According to Express News, Dr Faisal said, "The presence of JP Singh in the meeting of the Indian spy with his family members should not be considered consular access."

Foreign Minister Khawaja Asif, on Sunday, however, had said Pakistan could allow India consular access to convicted spy Jadhav while adding that India would not have done the same if Pakistan was in a similar position.

In an interview, the minister had said Jadhav's case was being heard by the International Court of Justice (ICJ) and Pakistan did not want India to create an impression that he was being denied access to his family.

Kulbhushan Jadhav: The story so far

The Indian spy was arrested in March 2016 by Pakistani security forces from Balochistan. A few days later, the Inter Services Public Relations (ISPR) released his recorded statement in which he confessed to working for RAW to foment violence in Pakistan, Balochistan in particular.

At ICJ, Pakistan dismisses India's plea for consular access to Jhadav

Later in April, he was given the death sentence by a military tribunal on charges of espionage and his involvement in subversive and terrorist activities. His mercy petition is still pending before the army chief.

India, disputing Pakistan's claim that Jadhav was a spy, went to the ICJ that stayed his execution till its final verdict. Pakistan also contested Indian claims before the ICJ in a recent reply submitted before The Hague-based court. Islamabad presents Jadhav's case as living proof of RAW's involvement in terrorist activities in Pakistan.
COMMENTS (2)
Comments are moderated and generally will be posted if they are on-topic and not abusive.
For more information, please see our Comments FAQ