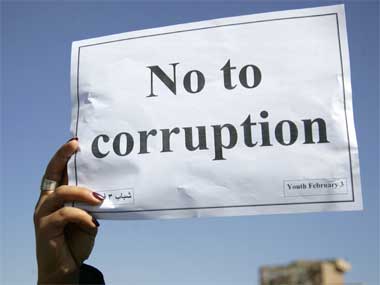 ---
ISLAMABAD: This article is in relation to the International Anti-Corruption Day held on December 9. The Public Accounts Committee chairman and other relevant functionaries and monitoring authorities were approached for an update on corruption in Pakistan.

None came up with the homework to pinpoint the biggest corruption channels and offer corrective measures in a country mired in scandals like Panama Leaks, Paradise Leaks and Dubai property investments.

The most dreadful account was not given by these personalities, but by a businessman who took the brunt of government functionaries' corruption over the past 45 years.

He asked: "When the state has created withholding tax agents to freely steal from the government tax on commodities and services, how can it (the government) combat corruption? How can the public surrendering their rights to such a theft-promoting system raise their voice against corrupt practices in the government structure?"

Corruption eating into country's foundations: Imran

Public Accounts Committee Chairman and Leader of the Opposition in the National Assembly Khursheed Shah said, "Corruption is being committed even in the China-Pakistan Economic Corridor (CPEC) projects and in all the big international deals at the government level. You will forget about corruption and its scale in public procurement, when you come to know how much money changes hands in international deals concluded by Islamabad and provincial governments."

Why does Transparency International stay mum over such deals? The answer came from the above-mentioned businessman. He said international institutions, after extending financial assistance for reforms in Pakistan, had lost all hope. They might not pinpoint big corruption after failure of repeated efforts to get their reform proposals through, he said.

Additional Auditor General of Pakistan Zafar Hasan Reza was confident that the National Accountability Bureau (NAB), Federal Investigation Agency (FIA) and Public Procurement Regulatory Authority (PPRA) were doing their job well.

Contrary to his claim, there are many corruption stories including that of a senior Balochistan government official, whose house was raided by the investigators, who found vanloads of currency and gold pieces there.

In Quetta, NAB has been investigating a number of provincial officials for years. Their cases have neither been settled nor have they been released under plea bargain.

Such cases are also common in Punjab and Sindh, especially in the licensing, bidding and billing areas. Reza did not mention a single case wherein NAB, FIA or the PPRA in coordination with the AGP office had made a successful investigation.

That is why people think organisations like Transparency International will not like to step into the thick stinky mud and help the country fight corrupt practices.

Zarai Taraqiati Bank Chairman Syed Talat Mehmood, who deals with financing for the country's farmers, said he had caught a number of officials at the bank for indulging in corrupt practices. A top official has been punished while another is in prison facing corruption cases.

"We at ZTBL have zero tolerance for corrupt officials," he remarked. "We have systems in place to detect wrongdoing. We catch them, launch effective inquiries and then hand them over to the FIA and NAB."

Senator Mohsin Aziz of the PTI, who heads a parliamentary sub-committee, was of the view that a system for catching corrupt practices was very much in place everywhere in the governance structure. "The only problem is that it is dysfunctional."

He said, "We send cases of malpractices to the FIA and NAB. Now it is up to them and the National Assembly and Senate to push these cases through the investigation channels and get results. Stay orders are got from courts against the investigation by the accused. Such stays prevent the timely and effective course of accountability."

FBR submits scathing report of 'corruption, inefficiency' in its department

If that is the truth, what can political and bureaucratic crusaders do? How can media operate in a manner that the accountability system is made functional? Answers to these questions are hard to come by.

All institutions that can play a role in accountability are underperforming. That is why the corrupt go scot-free in this country.

The writer has worked with major newspapers and specialises in the analysis of public finance and geo-economics of terrorism

Published in The Express Tribune, December 25th, 2017.

Like Business on Facebook, follow @TribuneBiz on Twitter to stay informed and join in the conversation.
COMMENTS (2)
Comments are moderated and generally will be posted if they are on-topic and not abusive.
For more information, please see our Comments FAQ