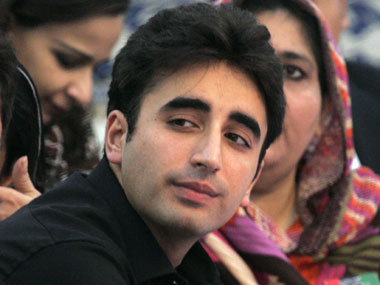 ---
HYDERABAD: Sindh excelled in the domain of public healthcare and the provincial government has built several hospitals, Pakistan Peoples Party's chairman Bilawal Bhutto-Zardari said on Sunday.

He was speaking at the inaugural ceremony of the National Institute of Cardio Vascular Diseases Satellite Centre at the Liaquat University Hospital in Hyderabad.

Urging the people to judge the top three mainstream political parties on the basis of services rendered by them in the 2018 general elections, Bilawal asserted: "Friends we are going to contest elections (in 2018). N-League (PML-N) says they gave metro buses to Punjab. PTI (Pakistan Tehreek-e-Insaaf) says they planted trees which can't be seen. But the PPP built hospitals."

He insisted that PML-N and PTI had been fighting to conquer the GT Road in Punjab while neglecting the rest of the country.

It's not Sindh but your politics that will be ruined, Bilawal tells rivals

"The people will have to decide whether they will vote for metros, trees or hospitals."

The NICVD Karachi has so far opened three centres in Larkana, Tando Muhammad Khan and Hyderabad.

Bilawal said that the centres in Sukkur and Sehwan would soon start working.

The centre in Hyderabad will offer angioplasty, adult and pediatric cardiology, bypass surgery, echo-cardiograph, diagnosis and consultancy services.

Bilawal said that these NICVD centres were providing free health services to people who were unable to afford expensive cardiac healthcare.

'Hepatitis has become a serious threat to public health in Pakistan'

"Until recently, these health services were only available for wealthy people."

The PPP chairman appreciated Chief Minister Syed Murad Ali Shah, Health Minister Dr Sikandar Mandhro and NICVD's Director Dr Nadeem Qamar and his team for establishing these centres.

He also acknowledged services rendered by the Sindh Institute of Urology and Transplant (SIUT), whose branches opened in Sukkur district and Gambat Institute of Medical Sciences. The latter is already providing free kidney and liver transplant services in a small rural town in Khairpur district.

Bilawal also mentioned the cyberknife robotic surgery which was also being offered for free in Karachi as another achievement of the PPP-led Sindh government. "Sindh is the only province where this surgery, costing between $50,000 and $60,000 elsewhere in the world, is being offered for free," he said.

Residents will not be free to openly defecate in Sindh by 2025

"These health facilities are being availed by people of the entire country and not just Sindh. And by establishing these hospitals, we have proved that we are connecting with the hearts of the entire nation."

Earlier, CM Shah requested Bilawal to approve a proposal for renaming NICVD to Sindh Institute of Cardio Vascular Diseases.

"We want to provide cardiac (healthcare) facilities across Sindh. We want to provide similar facilities at tehsil level, but we are facing a shortage of doctors."

He said that NICVD's Sukkur centre would be inaugurated on January 7 next year.

Shah sought more time for inaugurating NICVD centre at Sehwan. "Your presence is an encouragement for us all."

According to the CM, the media did not properly highlight the development projects executed in Sindh.