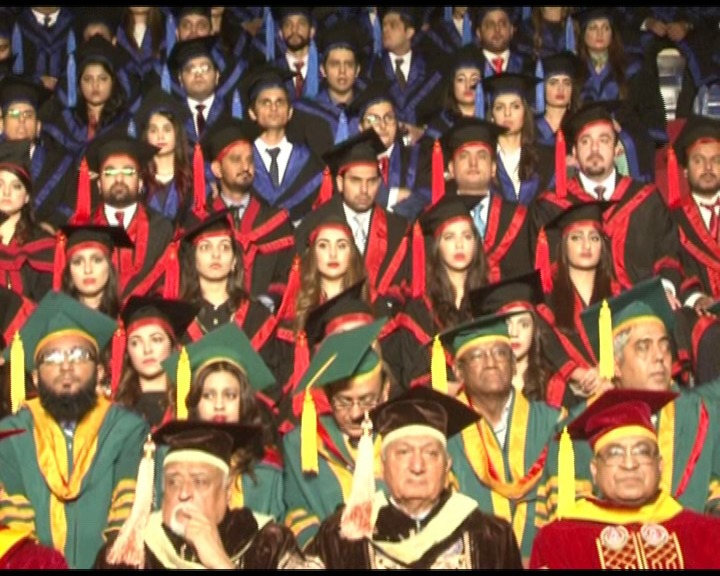 ---
KARACHI: As many as 333 students were awarded degrees at the 12th convocation of Greenwich University held at the varsity's Karachi campus on Saturday.

Another 19 students were awarded gold medals named after national heroes for their outstanding performance. The medals were named after heroes of Pakistan, including Captain Muhammad Sarwar Shaheed, Major Muhammad Shabbir Sharif Shaheed, Major Muhammad Akram Shaheed, Rashid Minhas Shaheed, Major Aziz Bhatti, Allama Iqbal, and Hawaldar Lalak Jan Shaheed. Five associate degrees, 213 undergraduates, 108 graduates and seven MPhil were awarded for academic excellence.

On the occasion, four people were also awarded Honoris Causa PhD degrees for their prominent services in various walks of life.

Renowned TV host and writer, Anwar Maqsood was awarded the Doctorate of Literature, Hilton Pharma Chairperson Sardar Yaseen Malik and Din Group of Industries Chairperson SM Muneer the Doctorate of Commerce and Air Commodore (retd) Shabbir Ahmed Khan the doctorate of human literature.

Greenwich University Vice-Chancellor Seema Mughal, addressing the convocation, said that our purpose must not solely be to make our future bright but the passing out students must also work to make Pakistan prosperous.

She told the audience that the varsity opened a campus in Mauritius last year which will play an important role in parting education in the region. She termed the step of entering the Mauritius market as a very important one, both politically and economically, as it will allow the establishment of foreign exchange between the countries and enhance political ties. She added that the efforts of the teachers were commendable.

New graduates: 384 receive degrees at BNU's convocation

"We believe that students cannot merely learn by staying in the classroom and that is why they are also sent into the field - to learn more," Mughal said, adding that the students were engaged in different activities to keep busy. She claimed that 495 students were given scholarships.

Speakers addressing the convocation said that the youth was the future of Pakistan. They pointed out that it was the responsibility of the passing out students to make use of their knowledge to enhance the progress of the country and improve the conditions of society.
Muneer said that success is with those who strive hard with passion.

He urged the students to serve those who were lower in class. He asked the students to implement what they learned in their practical life and encouraged them to play their role in the progress of the country. Using the analogy of the country as a lawn, Muneer asked the students to fill it [the lawn] with water so that it can bear different fruits.

360 degrees awarded at AKU's 30th convocation

Maqsood exhilarated the mood of the participants with his humorous speech and commended the students for their efforts.

Talking to the Express News, a student of the mass communications and media studies programme, Najam Soharwardi, said that we had the best teachers who also had practical experience and there is no example of those who taught us in the field.

"My parents were extremely happy when they were informed that I had received a gold medal. I had no hopes of receiving a gold medal as I was expecting to just pass the exams," he said. "I was a student of engineering but I left it to study media. This was a matter of concern for my parents as it was a big U-turn in my academic career, but I not only succeeded but have also won a gold medal which dispelled all their reservations and mental pressure," he said.
COMMENTS
Comments are moderated and generally will be posted if they are on-topic and not abusive.
For more information, please see our Comments FAQ