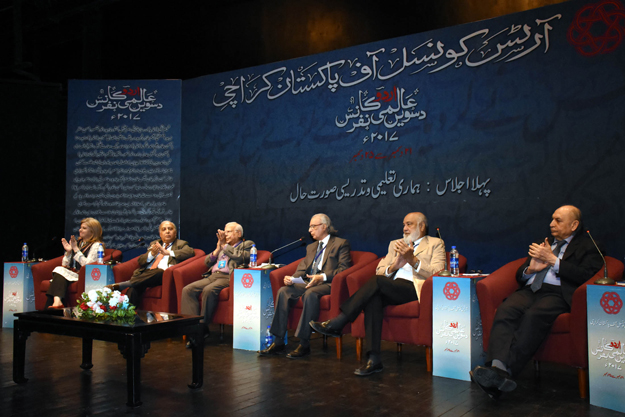 ---
KARACHI: Dominance of English is impeding the development of Urdu and other languages in Pakistan.

Poet Iftikhar Arif said this while presiding over a session, 'Languages and Society of Pakistan', on the third day of the 10th International Urdu Conference on Saturday.

"Urdu is not in conflict with Sindhi, Balochi or Punjabi. It is rather in conflict with English," Arif said, adding that the languages spoken by the elite tend to exercise dominance over languages spoken by the ordinary people.

Arif lamented that people were not conscious of the past of their country. "No nation can distance itself from its past," he said.

Poets, scholars call for maintaining standard while writing naat

Expounding on the topic, critic Muslim Shamim stressed on the need for removing factors that were providing resistance to peaceful co-existence of different languages in Pakistan. "Intercommunication between languages will help strengthen social bonds," he said.

Sindhi is one of the region's ancient languages tracing its origins to the times of Mohen Jo Daro, said poet Imdad Hussain. He pointed out that not much information was available regarding etymology of the languages spoken in the region. According to him, tremendous work is desired in the areas of lexicon and etymology.

The speakers also called for respecting of all the languages spoken in Pakistan. "No one should treat anyone's mother tongue with contempt," a speaker said.

"Pakistani society is a bouquet of various civilisations and languages," said Mazhar Jameel. He added that Urdu was actively serving as the lingua franca of Pakistan.

Pakistan Academy of Letters Chairperson Dr Qasim Bughio shed light on the evolution of languages over time. "If we compare any language spoken today with what it was 100 years ago, we will find significant differences" he said.

"The field of linguistics is now considered as a science," Dr Bughio maintained. He added that English was affecting Pakistani languages. "We must also embrace changes in our languages," he said.

International Urdu Conference to kick off on December 21

The session was moderated by Ayub Sheikh.

A foreign scholar of Urdu

Urdu scholar from Japan Hiroji Kataoka was the centre of attention at a session on literary relationships between Japan and Pakistan at the third day of the conference.

The audience was informed about Kataoka's extensive research on linguistics and his translation of works of great writers and poets of Urdu in Japanese language. The masterpieces of Urdu he translated include Deewan-e-Ghalib and Iqbal's Bang-e-Dara.

Kataoka's research on Urdu dated back to 1971 when he was enrolled at University of Karachi. "I was deeply impressed by the works of Krishan Chandar, Manto, Ahmed Nadeem Qasmi, Khadija Mastoor, Shaukat Siddiqui and Intizar Hussain," the Japanese scholar said. He also shared his fondness for Ghalib's poetry. "Those who have inclination towards poetry should definitely give Deewan-e-Ghalib a read."

The Japanese scholar also praised contemporary Urdu short stories, novels and poetry. He also called for cultural exchange programmes to help strengthen literary ties between Pakistan and Japan.