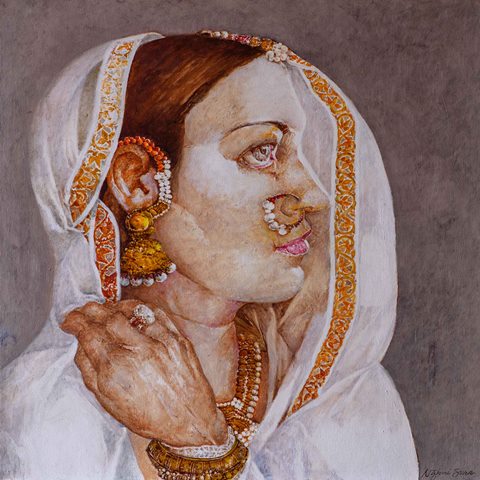 ---
KARACHI: The city's art enthusiasts were able to view, for the first time, the works of one of Pakistan's most celebrated artists, Najmi Sura. The opening of a solo exhibition of the artist's work titled 'A Painter Between Worlds' was held on Friday at Momart Art Gallery.

While Sura has exhibited her work in group exhibitions in London before, this is the first time her work has been put on display for the public in Pakistan.

The artist's depiction of the miniature art of the Mughal times has been changed and contoured to her perception of time. Every women depicted in her artwork is of a stronger stance - the women are not delicately proportioned as is common in both late Mughal and modern South Asian miniature painting.

Sura's impression of the female form is brought to life by the treatment of the main subject. The figure is meticulous in the old tradition. The depiction of jewellery and border decoration on the dress calls for minute work, but in the treatment of the background she uses free brushworks and sometimes creates rough textural effects.




Shammi Ahmed, owner and director of Momart Art Gallery, lauded Sura's work, saying, "Her work is a source of inspiration for many generations to come". Ahmed went on to say she has given life to miniature art depicting the Mughal era. "Her work has been commemorated by multiple writers and critics for bringing individuality to her subjects. It is an honor to be hosting her first ever solo exhibition."

The exhibition housed art pieces done by the artist throughout her life. It will remain on display till tomorrow (Sunday).

Sura has also been awarded the Sitara-e- Imtiaz for her contributions to the art world.
COMMENTS
Comments are moderated and generally will be posted if they are on-topic and not abusive.
For more information, please see our Comments FAQ