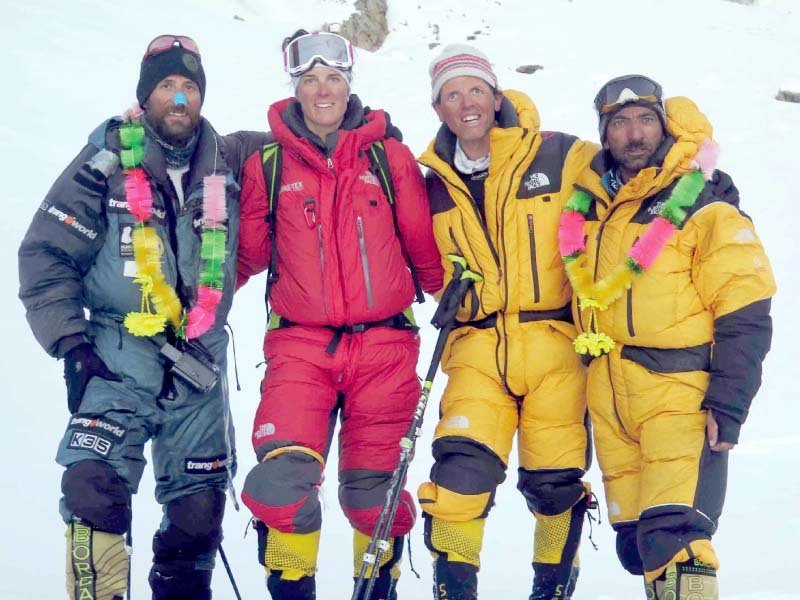 ---
ISLAMABAD: Part of the team which made the first-ever ascent of the Nanga Parbat in winter, Mountaineer Muhammad Ali Sadpara has announced plans to summit the tallest mountain in the world, Mount Everest, in the current winter season.

However, he aims to make the already perilous attempt all the more difficult with plans to do so without using any supplemental oxygen.

Conquering Nanga Parbat against all odds

In February 2016, Sadpara along with two foreign mountaineers including Spaniard Alex Txikon and Italian Simone Moro had successfully summited the 8,126 metre 'Killer Mountain' Nanga Parbat. Completing the feat on what was their second attempt to do so, together they became the first group of mountaineers to summit the mountain in harsh winter.

On Thursday, Sadpara unveiled details of his coming expedition at a news conference.

Born in the Sadpara village — home to the illustrious Hassan Sadpara who was the first Pakistani to summit Mount Everest — the sprightly mountaineer said that he would be flying to Kathmandu on Friday (today) before heading to Lukla and onwards to Everest base camp. Sadpara said that they plan to launch their bid on the summit by January 26, 2018.

"I started my career as a porter and used to carry 25 kilogrammes of equipment of foreign mountaineers," Sadpara said.

Carrying the loads up and watching these foreigners travel from so far away to climb something right in his backyard, Sadpara said it ignited something in him.

"It had been my dream to climb Nanga Parbat and other peaks to hoist the flag of my country on eight-thousanders like other foreign climbers," Sadpara explained.

Talking about his history-making bid, Sadpara said that since the 1970s, mountaineers had been attempting to scale the Killer Mountain in the autumn season, but his team was the first to do so in winter.

He recalled the failed attempt a year earlier in 2015, noting that temperatures had plummeted to minus 50-degree centigrade. Despite near disaster, the team was unfazed and made another attempt the following year and survived at minus 51 degrees.

Sadpara, who has climbed Nanga Parbat three times, said that he had survived the 8,126-metre summit and hence was optimistic of his chances of reaching the 8,848m summit, without oxygen — noting that no one has scaled Everest in winter without the use of supplemental oxygen.

Little local support

Despite the fact that Pakistan has five of the world's 14 peaks over 8,000 metres, few Pakistanis have attempted to scale them. In large part, this was due to little support for the cost-intensive summit attempts.

Sadpara said that the upcoming expedition would cost each climber around $62,000. Of this, he said, he had managed to raise around $42,000 from foreign sponsors.

Everest climber quits police post after being stopped from meeting Zardari, manhandled

However, he lamented that his native Gilgit-Baltistan (GB) government, which had promised to support him in his mountaineering endeavours when he made the world record on Nanga Parbat, had refused to fulfil its promises when approached for the Everest mission.

There are 14 mountains above 8,000 meters in the world, usually referred to as eight-thousanders. Pakistan alone hosts 5 of them: K2(8,611m), Nanga Parbat(8,126m), Gasherbrum 1(8,080m), Broad Peak(8,051m) and  Gasherbrum II (8,035m).

Sadpara has climbed all but K2 and Broad Peak.

Published in The Express Tribune, December 22nd, 2017.
COMMENTS
Comments are moderated and generally will be posted if they are on-topic and not abusive.
For more information, please see our Comments FAQ