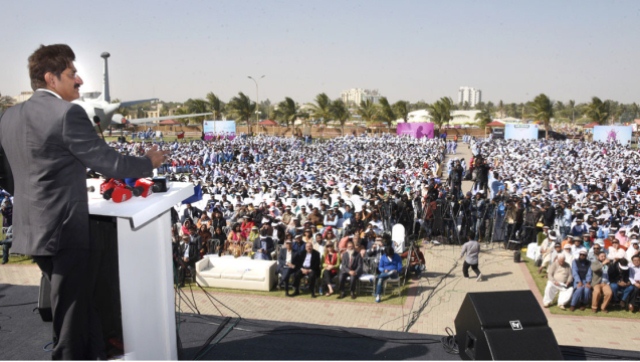 ---
KARACHI: I truly feel the positive spirit of optimism at this forum, said Chief Minister Murad Ali Shah. He was speaking at the She Leads Conference by Kiran Sitara, the Indus Health Network and Interactive Research and Development in collaboration with the education department at the PAF Museum on Saturday.

"We will need your youthful energy, creativity and passion to lead our country to a healthier future," he told the gathering of 10,000 female students.

Shah said today's generation of young people, particularly the women, is the largest the world has ever known. He added that one in every three persons alive today is under the age of 30 and around 90% of young people are living in developing countries, such as Pakistan. "I believe in your power to shape our future. Young people now and in the future will play a big role in how our world addresses challenges," he said, adding that only by ensuring opportunities that open the future to all young people can we create a better future.

He said the collaborative efforts of the organisers emphasised the importance of contributing to progress, particularly during times of change. "This approach is needed now more than ever," he said.

'Women should be encouraged to learn entrepreneurial skills'

The CM said the Kiran Sitara Adolescent Health and Leadership programme achieves that by mobilising young girls at secondary schools. By teaching adolescent girls the skills such as communication, negotiation, leadership, human rights and combining that with basic healthcare directives, Kiran Sitara is creating a network of social impact leaders. Shah explained that over the next decade and beyond, if we are to solve the most pressing issues of our time, we can tap into the dynamism of this generation of leaders, for they have the potential to be the most creative forces for social change in the country. "By empowering these girls, we can drive social progress in areas including access to education, immunisation programmes geared towards polio eradication, child marriage and other critical health and development challenges," he said.

The CM said he is convinced that investing in education for girls and women is the key to unlocking advances across society. He added that positive change is possible if we act together and act now. "The problems we face are global but they demand local solutions," he said.

The Kiran Sitara programme - part of 'Aao TB Mitao' - aims to enhance leadership skills of adolescent girls by providing trainings to boost their confidence, improve educational performance and ameliorate their communication competency.

Currently the programme is teaching young girls how to identify basic symptoms of tuberculosis and training them to send people to key healthcare facilities for further testing.  By harnessing the potential of students as actors of social change, this indigenous community outreach campaign is designed to increase uptake of screening and treatment services for a TB-free Pakistan.

Women display skills at SBBWU

IRD's Youth Engagment Programme Director Qadeer Baig said Kiran Sitara is currently working with over 200 schools across Pakistan and over 30,000 girls who have successfully completed their healthcare and leadership training. The goal is to impact 200,000 households and 1.5 million difficult to access people in low-income communities across Karachi, Peshawar, Hyderabad, Sukkur and Lahore, he explained.

Indus Health Network CEO Dr Abdul Bari Khan said, "Approximately 50% of Pakistan's total population comprises women but unfortunately, in many communities women are not given equal access to quality education and opportunities."

After the event, Shah told the media that the verdicts of the Supreme Court in the cases of the Pakistan Tehreek-e-Insaf and Pakistan Muslim League - Nawaz have been comparably positive but there has always been a separate yardstick for the Pakistan Peoples Party. "We always respect the court decisions," he added.

He said that the forthcoming general election of 2018 would be the last election for Imran Khan because he is no longer a leader of the youth. "It is Bilawal Bhutto Zardari who is a genuine leader of youth of the country," he said, adding that Bilawal has the ability to steer the country out of present crisis," he said.