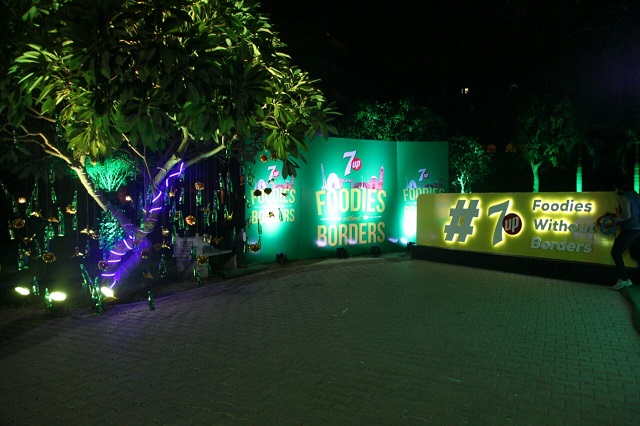 ---
They say there is no greater love than the love of food and aren't we Pakistanis the most accurate example for this?

Like the cheese to our burger and chuttni to our samosas, 7Up is the drink which makes our favourite foods way better instantly. If that was not enough, 7Up came up with 'Foodies Without Borders' to bring us the most amazing delicacies of Pakistan.




That is right. 7Up yet again brought us the grand Foodies event to satiate the taste buds of desi food lovers across Pakistan.We did not have to travel extra miles to reach our favourite foodie destinations because 7Up had blurred the borders between foodies of Pakistan.




It brought the most famous and scrumptious delicacies from Karachi, Lahore, Gujranwala, Quetta, Peshawar and Murree under one roof. Vendors from these cities rushed to the event to spice up things for Pakistanis.




Since the the menu boasted a plethora of dishes, everyone eagerly dashed to the event to rejoice their love for food.

Few of the desi places that made to the list of this exclusive event were:

Shahbaz tikka from Gujranwala





Nisar Charsi tikka from Peshawar




Phajjay ke paye from Lahore




Dhaga kabab from Karachi




Lacha paratha from Quetta




Patakha chicken from Murree




We could go on and on about the vast array of items at the event, but the list is extensive.




The fun doubled due to the presence of renowned celebrities like Ahsan Khan, Neelum Munir, Feroz Khan, Juggan Kazim and Alyzeh Gabol.




They made the traditional event unforgettable for everyone.




To top it all, the event also comprised a live concert by the brilliant music band Josh, alongside with this year's winner of the Pepsi Battle of the Bands, Kashmir.




Appetizing food along with remarkable music made it hard for people to leave the event.




We would have continued praising 'Foodies Without Border' for hours had we not needed a break to recover from a food coma.




We surely can't wait for 7Up to bring us another gratifying event that will fulfil our epicurean fantasies.
COMMENTS
Comments are moderated and generally will be posted if they are on-topic and not abusive.
For more information, please see our Comments FAQ